Stainless Steel / Other Special Steel Processing
Ability to perform custom-made and mass-produced processing order of high-level stainless steel at domestic and overseas plants
While handling more than 1,000 processing operations a month at domestic factories alone, in response to customer requests, we also have expanded to acquire various stainless steel processing technology and continued to pursue that level. We will continue to respond to customer requests under the motto of evolution.
Features
High technology obtained from processing experience for equipment used in pharmaceutical and semiconductor plants
We understand the differences in each project's requirements and material properties required in the plant, and combine the processing methods that are most appropriate for our customers' needs. Therefore, we have a series of processes such as cutting, pressing, welding, bending, burring, buffing, electrolytic polishing, and cleaning in-house, and ensure diverse processing with high quality.
---
Electro polishing (EP) technology accumulated from 1985
We perform electro polishing for products in various sizes and shapes such as pipes, tanks, fittings and processed products with large and small diameters. Especially for processing products, based on our know-how of EP, you can expect higher accuracy, corrosion resistance and smoothness.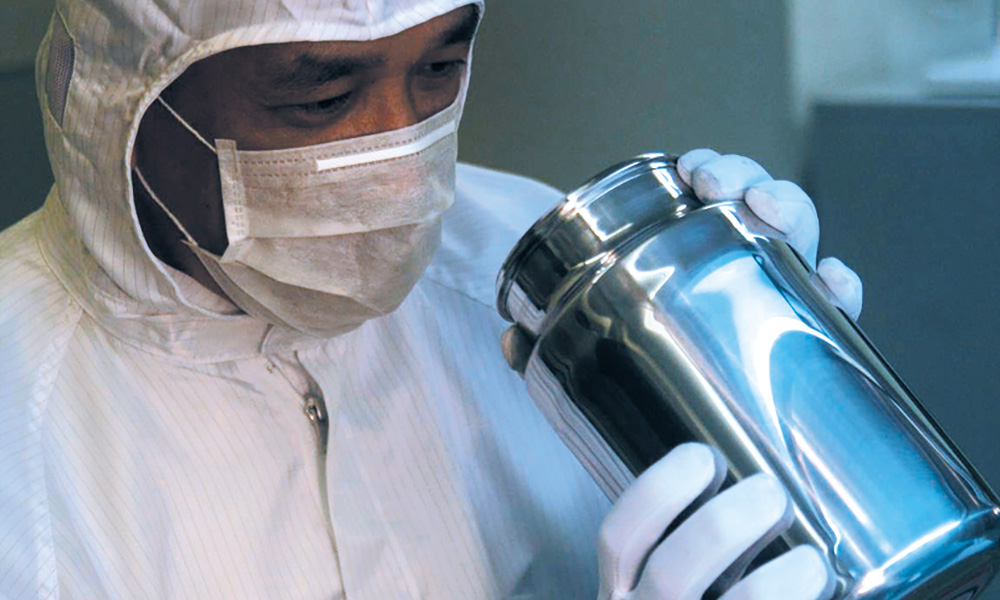 ---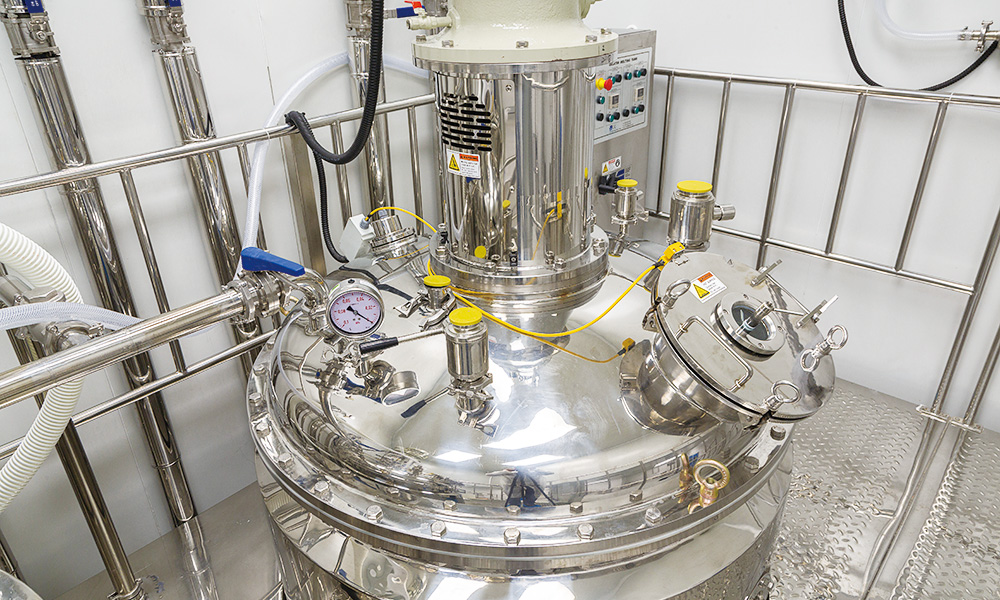 Selection of parts, processing, manufacturing, and installation – all completed in-house
Our company can complete from the selection of parts, processing, manufacturing to installation in-house. This will reduce your hassle-free arrangements, and will eliminate concerns about quality fluctuations and instability. This will lead to a significant reduction in customer burden and cost.
List of Technologies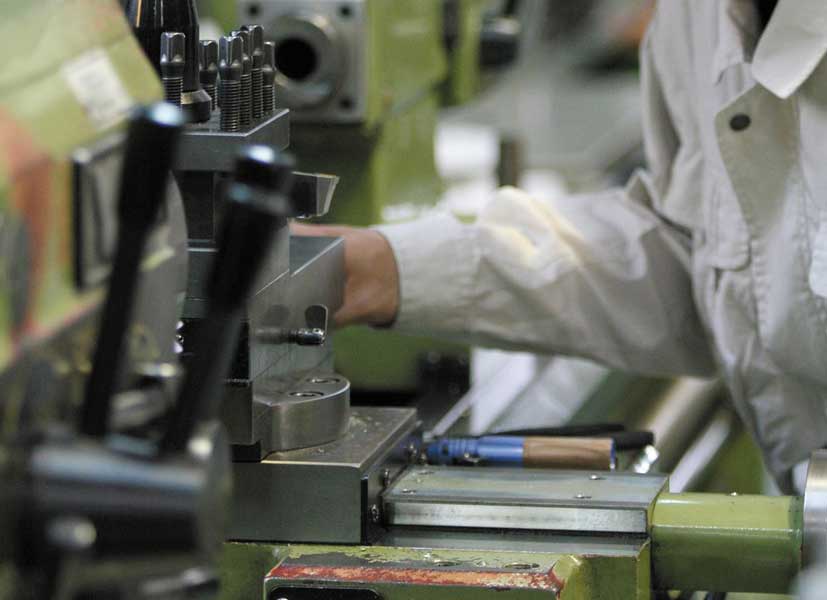 Cutting
At Nissho Astec, we have various specialized machines as well as automatic machines such as CNC lathes, Machine Center or 3D laser machines. However, we also value the craftmanship with manual machines.
This is due to our belief, which is that specialized and automated technologies are based on the fundamental technology of general machines; and that our cutting process are being operated by a combination of various kinds of specialized, automatic and general machines.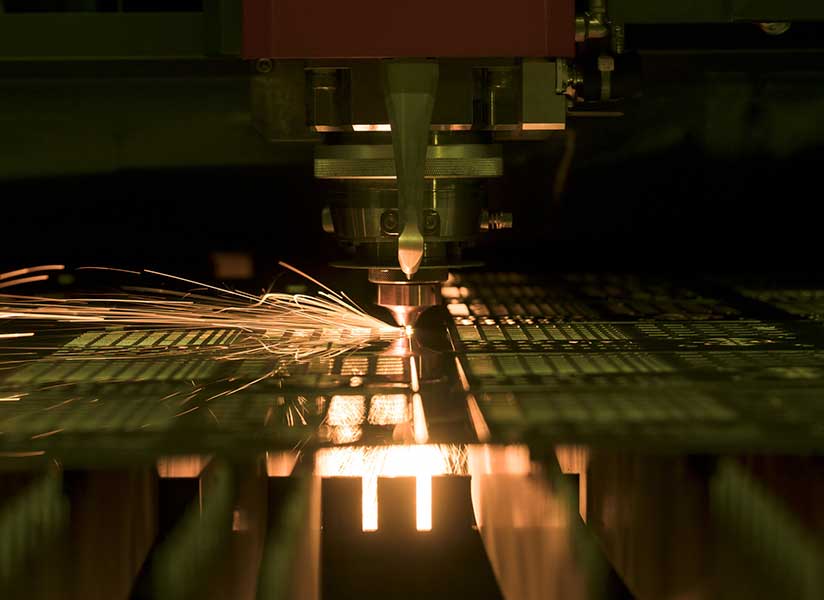 Laser Cutting
We have a high-end model machine which added a positioner function to a 5-axis drive CAD-CAM laser cutting machine. This makes it possible to cut with high-difficulty laser cutting.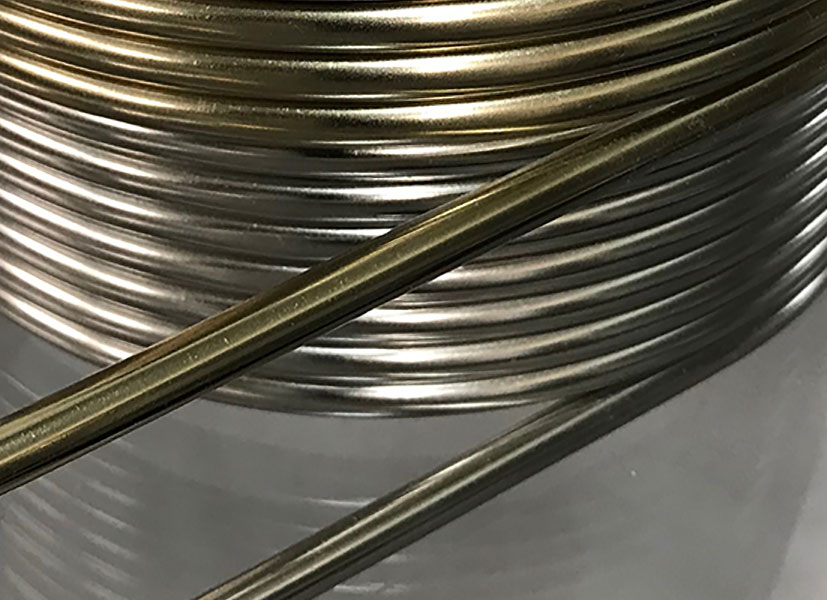 Pipe Bending
We have installed a 3D pipe bender for piping inside the semiconductor manufacturing equipment, which makes it possible for us to replicate the complicated bending process with high precision. Bending for general piping and sanitary pipe is handled at our own plant, our overseas subsidiary company, or our partner company.
Burring
By making use of the burring process, pipe assembling can be done without the use of some TEE fittings, which not only reduces leakage and strain, but also brings down the total cost of piping, and simplifies the cleaning process and installment of the whole process line. At Astec, we can deal with various sizes of caliber. Furthermore, we have receive high praise for the fact that there are extremely few scratches on both the inside and outside of the final products thanks to our continuous innovation after regular dealing with abrasive products.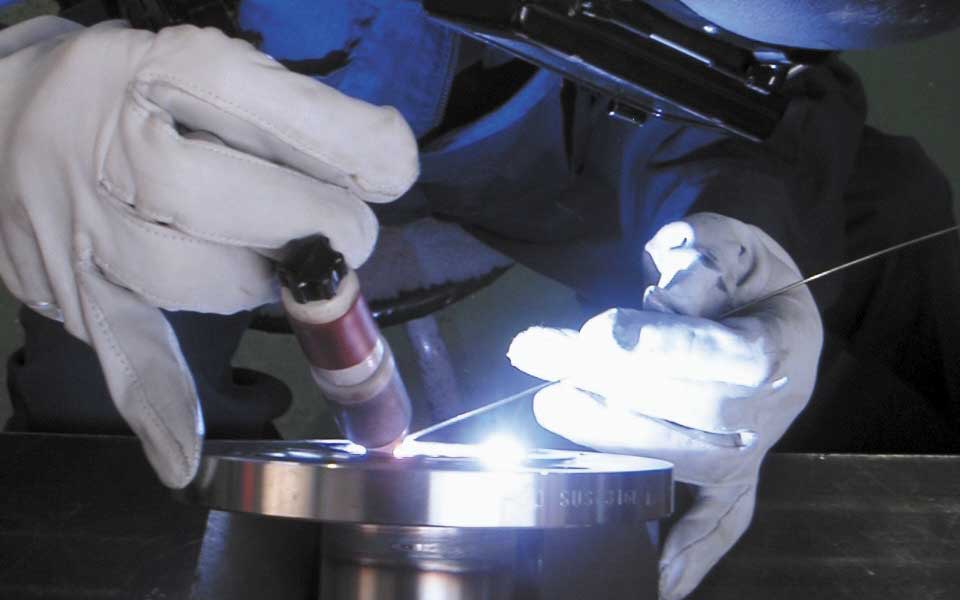 Welding
「Enormous damage is caused by Defects afterwards」, this motto is constantly remembered by each and every staff member of our company, pushing them to pursuit high level of completion, according to the requirements stated in our customers' welding instructions. We also operate welding process for other products, such as tanks or frames.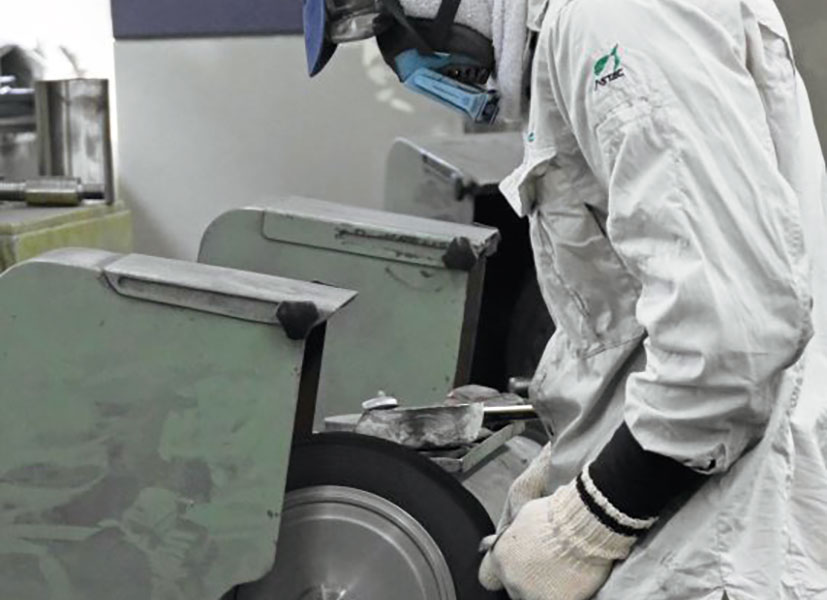 Buff Polishing
We are devoted to polishing as well. For example, temperature control during titanium material polishing process, precision of the buffing process operated in our in-house factory with electrochemical polishing system: for the polishing process, we are using machines such as the automatic pipe polishing machine, the automatic fitting polishing machine and the cask specialized polishing machine, which are all made by our enthusiastic and innovative employees.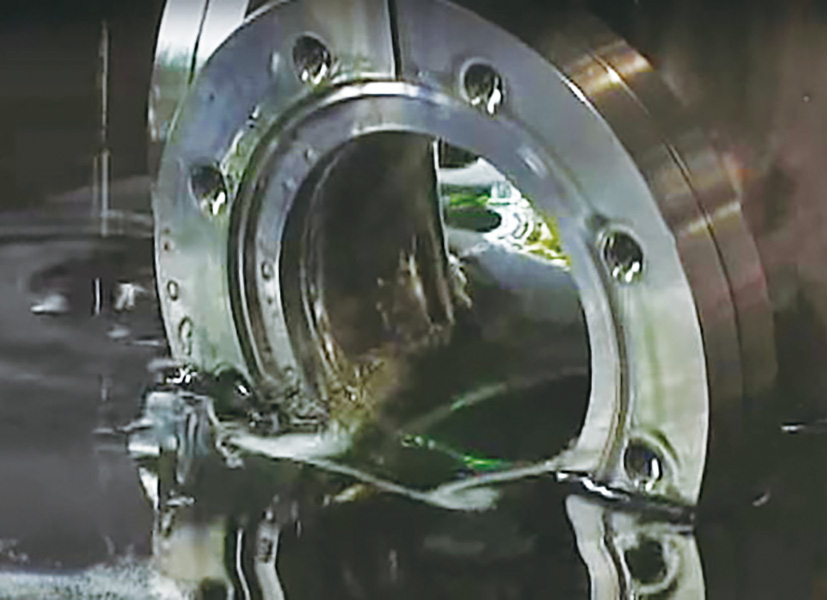 Electro Polishing
According to our customers' orders, we provide two kinds of EP grade. For customers who order completed EP prefab piping, we will re-apply EP only to the welded part. By doing this, the pipes will be covered with a layer of chromium-rich passive film.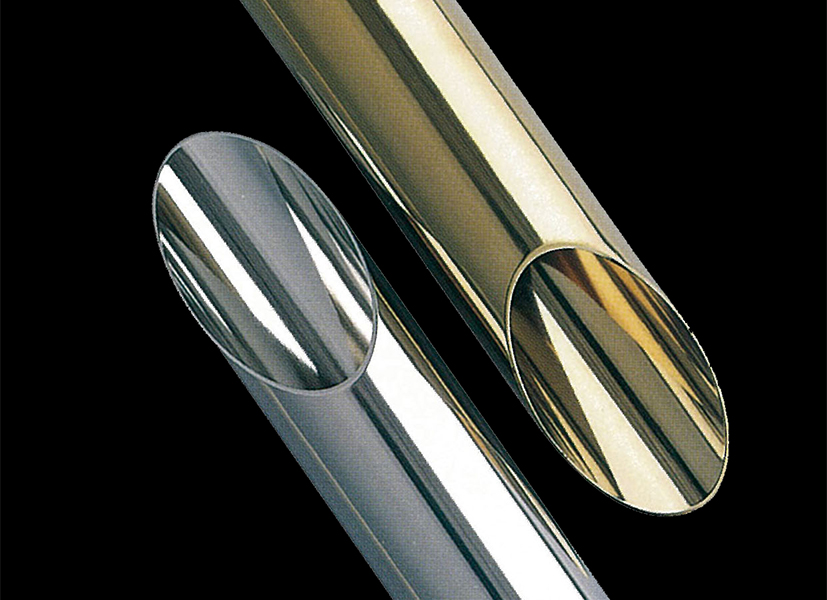 GOLD EP / GOLD EP WHITE
GOLD EP and GOLD EP WHITE are stainless steel surface treatment technology which is solution of the problems occurring when using Ultra Clean Technology. GOLD EP has no elution against residual oxygen-rich alcohol / ozone water, and GOLD EP WHITE has the characteristic of not dissolving in ultra-pure water · organic amine type chemicals. Currently, only two companies in Japan are capable of operating this treatment process.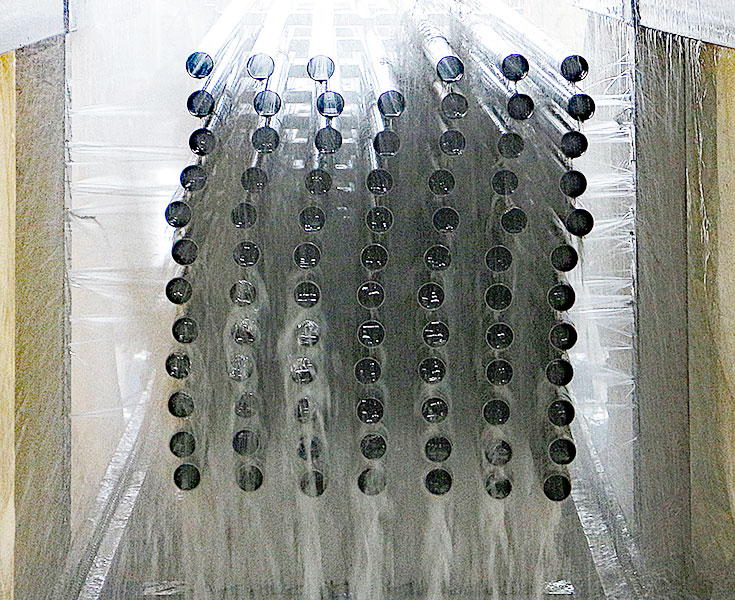 Cleaning
For the cleaning process, we are operating pickling (degreasing cleaning) · BA pipe cleaning and EP pipe cleaning. We also have a clean room (conforming to JIS B9920 Class 6 (USA Fed.Std. 209 E Class 1000)) for cleaning with ultrapure water and precision cleaning using techniques such as nitrogen blowing.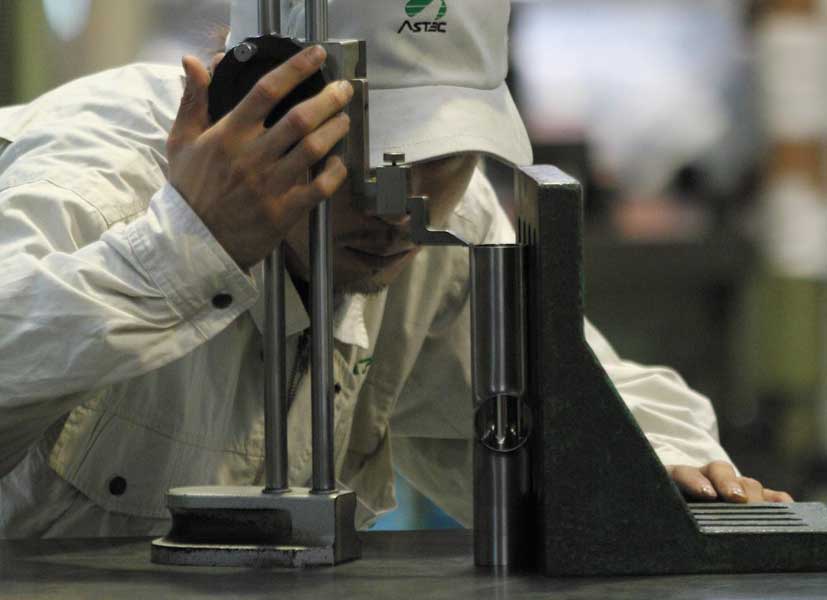 Measuring
For cutting pipe, for example, we can provide finished products with accuracy of 0.1mm even though pipe length is 4000L thanks to our strict and accurate dimensional control system. We can achieve a high level of accuracy not only in finished components, but also in prefabricated piping. At Astec, we can perform different kinds of measurement according to customers' requirements, such as ultrasonic thickness measurement, oil content measurement, particle measurement, surface roughness measurement, etc.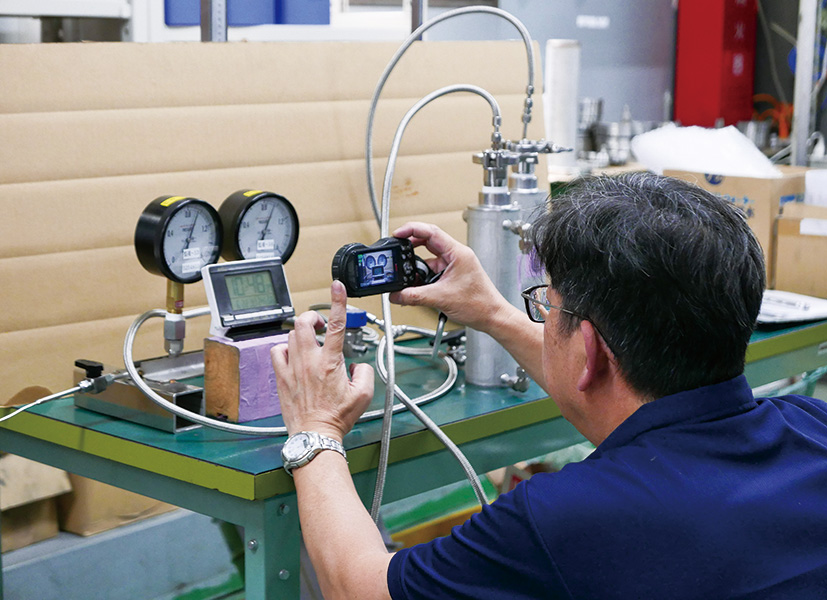 Inspection
Regarding the visual inspection for each process, we have set up a standardized accreditation system and we also provide training so that constant and precise judgment can be made. We also have a certification system for inspection using measuring equipment, and we are trying to handling the technical maintenance of our on-hand equipment.
Testing
For our testing process, we are performing pressure resistance test, Helium leak test and 121 ° C pure steam exposure test. Regarding the handling of this testing equipment, we have established an in-house accreditation system, which is an equivalent to the inspecting process, and we have a thorough system for proper examination although it is still at a self-inspection level.
Combined Technology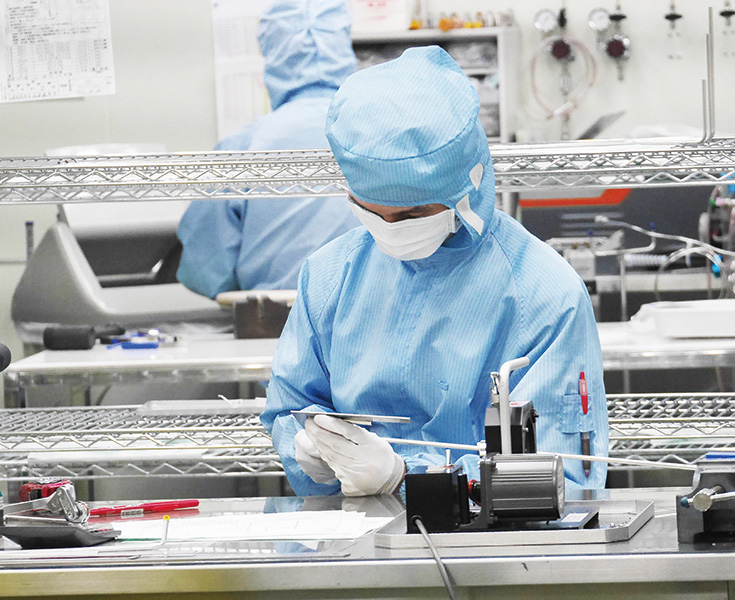 Clean Technology (CT)
In the processing of sanitary piping, the processing environment and the degree of cleanliness such as cleaning and packaging greatly affect the quality of equipment. Nissho ASTEC has clean rooms at two plants and meets the high quality requirements of clean technology(CT).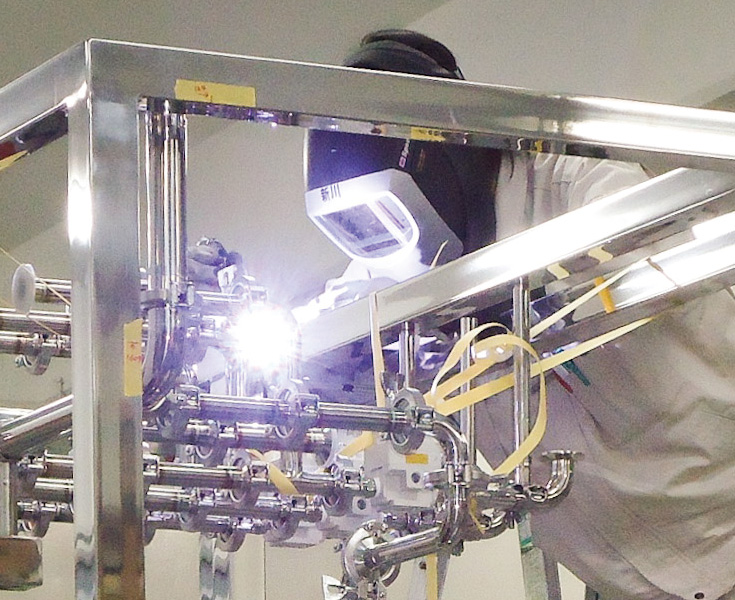 Unit Production and Assembly
The unitization of valves and devices improves operability and maintenance when customers operate the facility, and also has various benefits such as a better appearance in the factory. In addition, it is excellent in construction, and smooth installation and adjustment can be performed on a tight schedule of plant construction.
Installation work
The prepared units and prefab piping are also available for installation work at the customer's site. In addition, processed piping, utility piping, support materials, etc. are compatible with on-site processing, installation and inspection.
In particular, we are highly regarded at sites where high-quality levels are required, such as for pharmaceuticals, semiconductors, beverages, and food plants. Our final process is at your site.