Utilization of foreign human resources / Sử dụng nguồn nhân lực nước ngoài
Nissho Astec has a close relationship with Vietnam and has been continuously accepting Vietnamese Technical Intern Trainees since around 1990. Using various skills gained during their time working at our company, those trainees are actively participating in several companies in Vietnam and at VINA ASTEC CO., LTD. – our subsidiary in Vietnam. We also employ foreign personnel as full-time employees to promote overseas business. (As of May 2019, 5 full-time employees and 6 technical interns)
---
Nissho Astec đã có mối quan hệ mật thiết và thực hiện tiếp nhận thực tập sinh kỹ năng Việt Nam từ năm 1990.Sử dụng các kỹ năng đã học, các thực tập sinh kỹ năng sau khi hoàn thành khóa đào tạo sẽ quay về Việt Nam và làm việc cho các công ty trong nước hoặc có thể làm việc cho Công ty TNHH VINA ASTEC – công ty con của NISSHO ASTEC. Ngoài ra, để mở rộng kinh doanh hơn nữa tại thị trường Việt Nam, chúng tôi đã tuyển thêm các nhân viên người Việt ưu tú làm việc toàn thời gian. (Tính đến tháng 5 năm 2019, NISSHO ASTEC có 5 nhân viên toàn thời gian và 6 Thực tập sinh kỹ năng người Việt Nam.)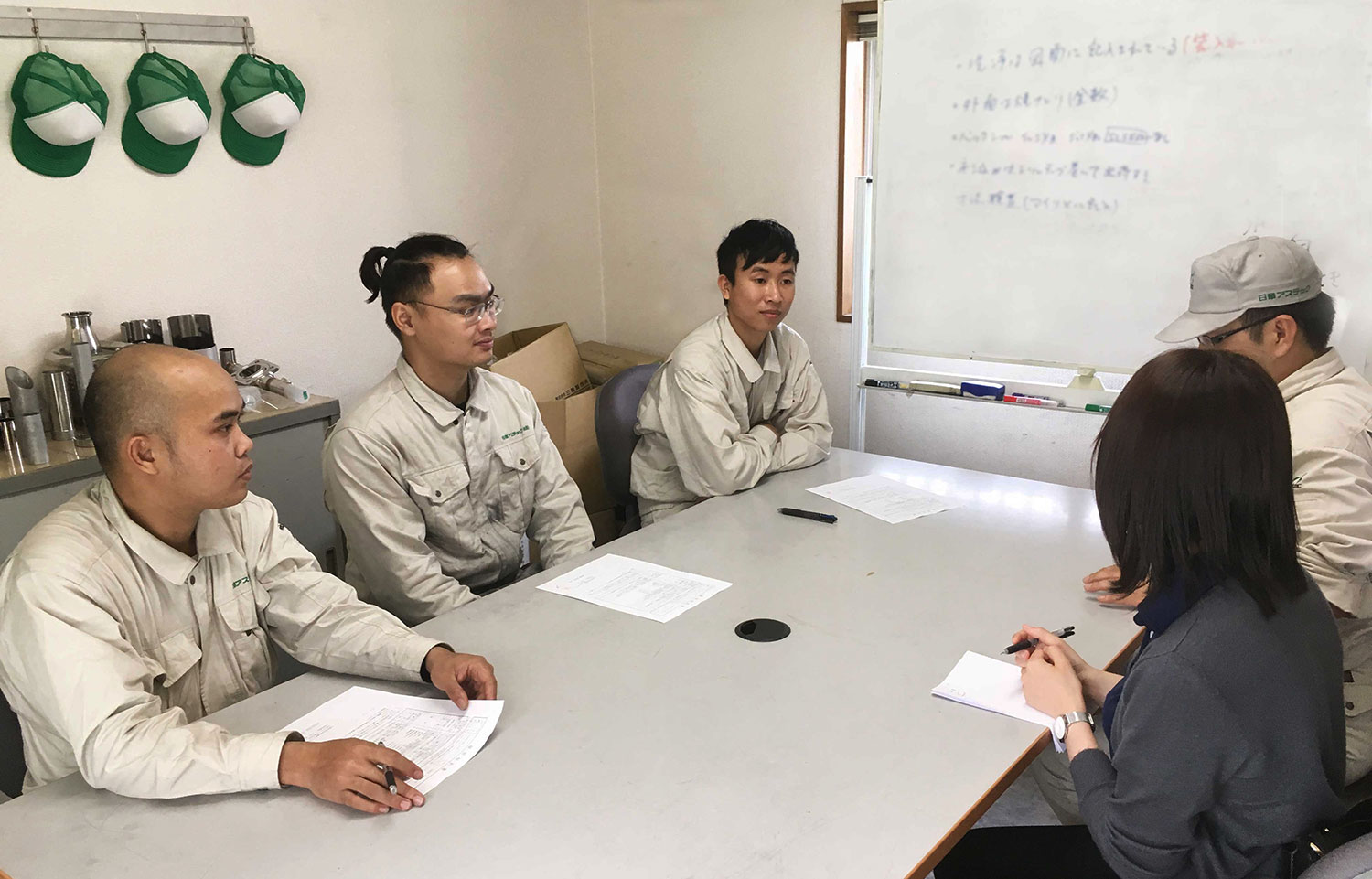 The photo below shows a one-month review for three Vietnamese hired this year (April 2019). The interview with the factory manager of Meishin, who is giving production training, was conducted with a senior Vietnamese full-time female who is in charge of interpretation.
From left to right, Mr. Viet (came to Japan from Oct., 2018), Mr. Loc and Mr. Anh (came to Japan from Jan., 2019) at Meishin Plant Conference Room, May 30, 2019
After this review, the "bending processing (bending pipes into specified shapes using tools and machine)" training was carried out. Although it is necessary to overcome the language barrier in order to acquire one processing skill, Vietnamese staff who are fluent in Japanese also participated to help assist the training to go smoothly and efficiently.
---
Ảnh dưới đây là ảnh chụp tại buổi đánh giá hàng tháng đối với 3 nhân viên người Việt được tuyển vào tháng 4/2019. Buổi đánh giá giá gồm có quản đốc nhà máy Meshin, người chịu trách nhiệm quản lý sản xuất và đào tạo, và nữ thông dịch viên người Việt.
(Ảnh từ trái qua phải) Việt (tới Nhật từ tháng 10, 2018), Lộc và Tuấn Anh (tới Nhật từ tháng 1, 2019) tại phòng họp của nhà máy Meishin ngày 30/5/2019
Sau buổi đánh giá, các nhân viên này đã được đào tạo về kỹ thuật gia công uốn (uốn ống theo bản vẽ sẵn có sử dụng các công cụ và máy). Mặc dù cần phải vượt qua rào cản ngôn ngữ để có thể nắm được từng kỹ thuật gia công, nhưng với sự giúp đỡ của nhân viên người Việt thông thạo tiếng Nhật, buổi đào tạo đã có thể diễn ra một cách suôn sẻ và hiệu quả.