VINA ASTEC CO., LTD.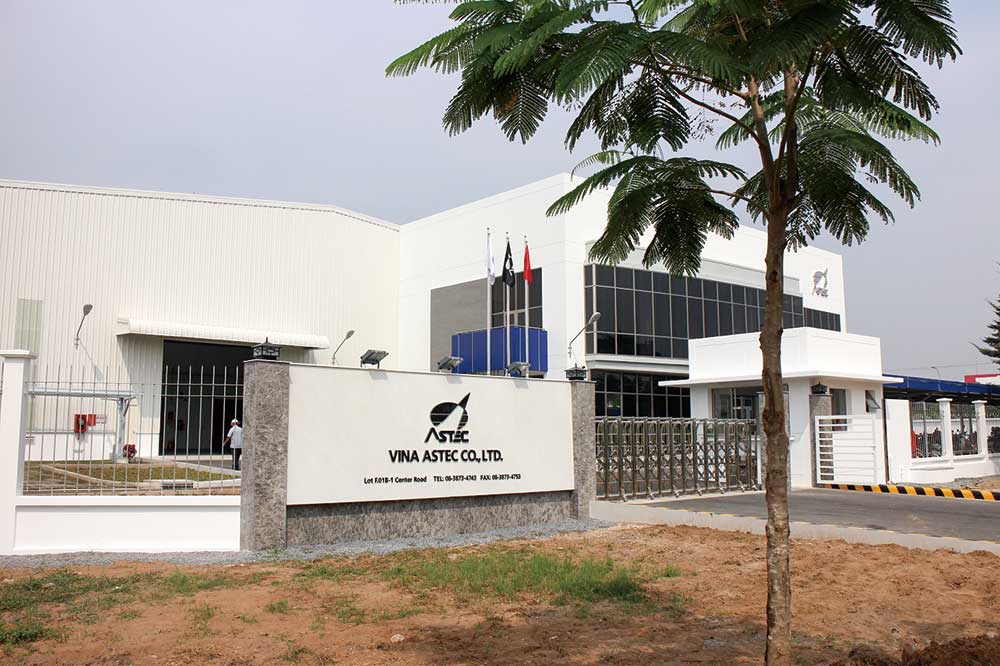 Address
LOT F01B1 F01B2 Center Road, Long Hau IP,
Long Hau Commune,
Can Giuoc District, Long An Province, 82507, VIETNAM
See map
: +84-28-3873-4743
Business Contents
CuttingBending BurringWelding PolishingPickling CleaningElectropolishingInspection・TestingPiping installation
A stainless steel processing factory which is capable of conducting the whole processing cycle including electropolishing
Our Vietnamese subsidiary – VINA ASTEC CO., LTD. – is a processing factory of stainless steel products with area of 10,000 square meters in the corner of Long Hau Industrial Park, 22 km to the south of Tan Son Nhat Airport.
VINA ASTEC inherits stainless steel processing technology that Nissho Astec has learned and developed in Japan for decades, and carries out stainless steel processing and quality management with high quality compared to other domestic factories.
We can perform a variety of manufacturing processes such as machine work, buffing, electropolishing, welding, etc., and have the ability and skills to carry out mass production, special order, and construction projects.
Not only VINA ASTEC's president and plant manager but also many of our staffs are able to use Japanese at work, therefore, we can efficiently do business with both domestic and foreign customers.
VINA ASTEC 10th Anniversary (2020)
VINA ASTEC's features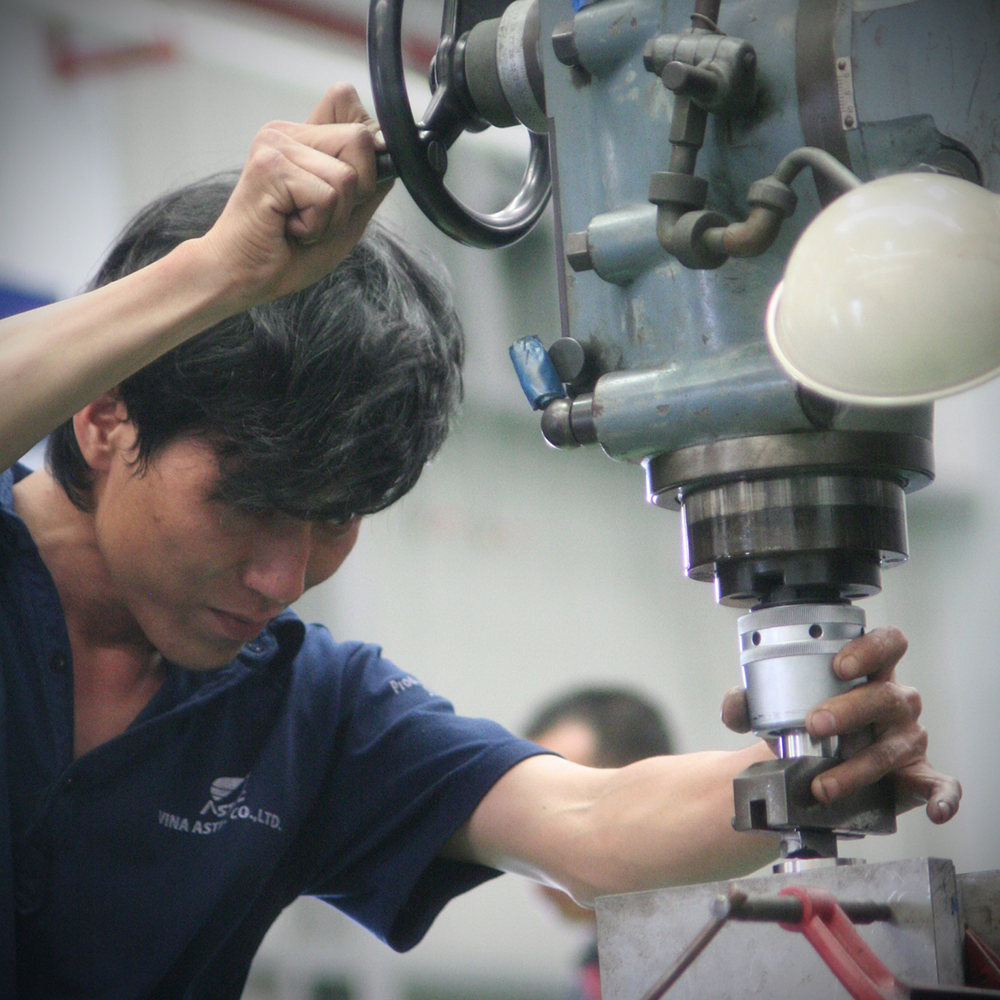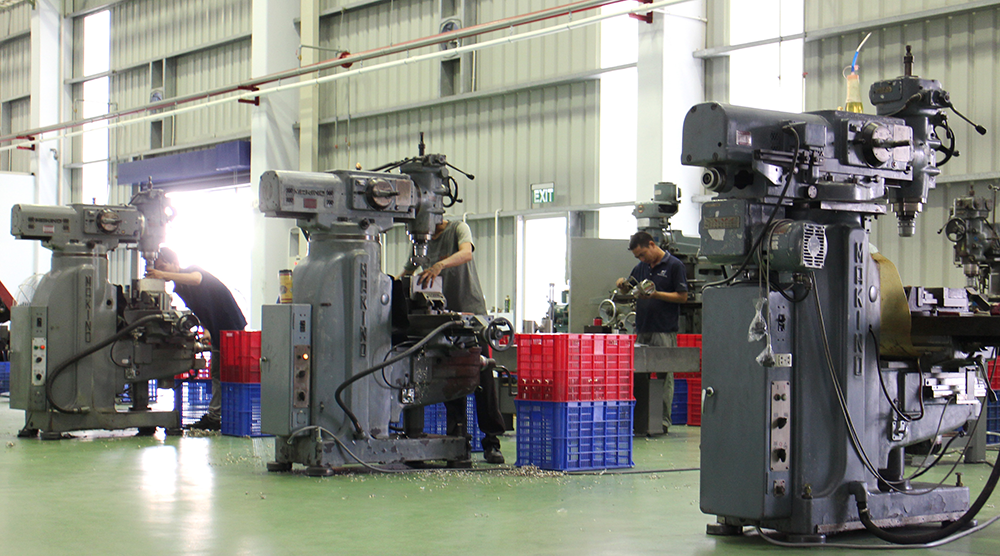 Processing
Processing of custom-made items and mass-produced items
We possess equipment to carry out various processing steps such as cutting, bending, welding, cleaning and inspection, and we produce a variety of processed products.
Prefabricated piping
Prefabricated piping not only helps reduce working hours at the site, but also allows us to provide better- and more-stable-quality products.
Unit assembling
Apart from material arrangement, we also produce necessary parts or utilities by in-house production.
Main materials: stainless steel, aluminum, plastic, resin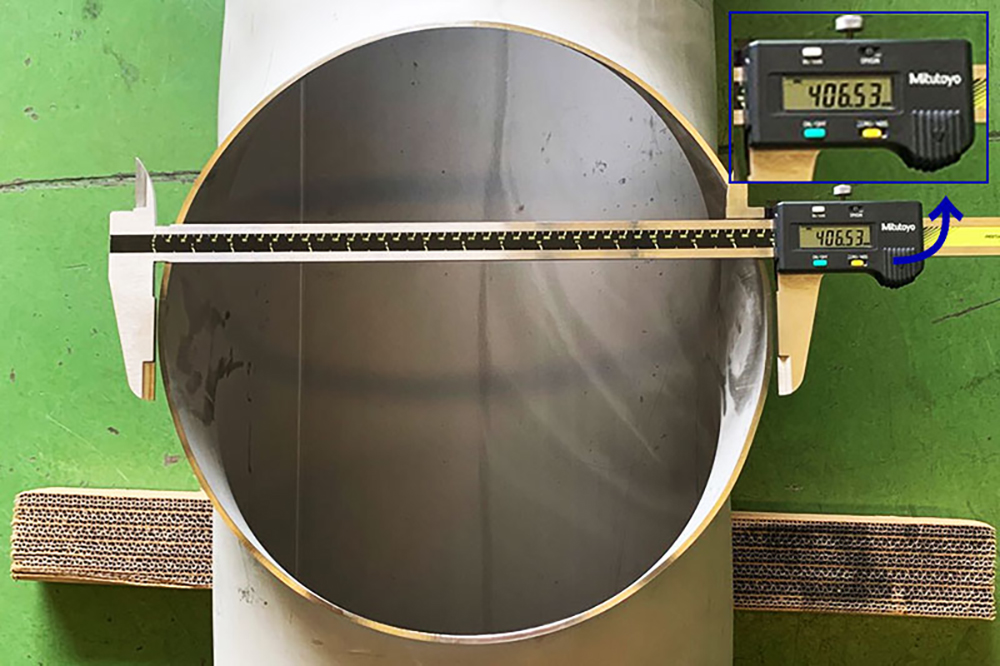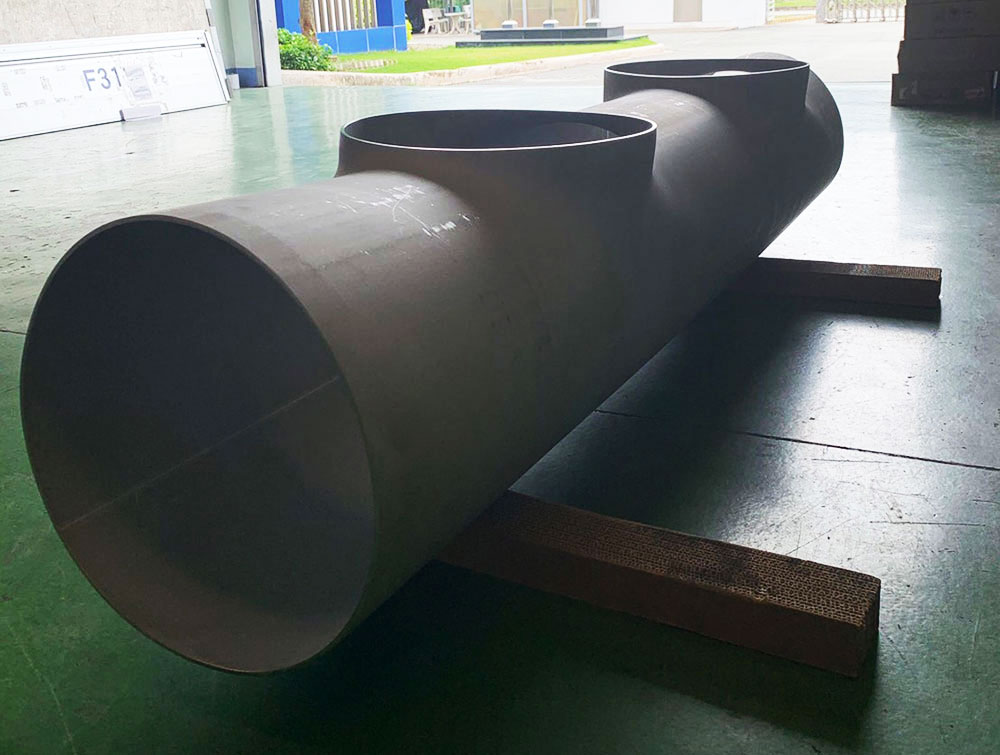 Burring
Burring objects vary from small diameter pipes to large diameter pipes such as 400A pipes.
Example of processing size (large diameter pipe with same diameter burring)
400A S10S、S20S  350A. S10S、 S20S
300A S10S、S20S  250A. S10S、 S20S
200A S10S、S20S
※Since we are increasing our mold range, please contact us for more details about compatible sizes.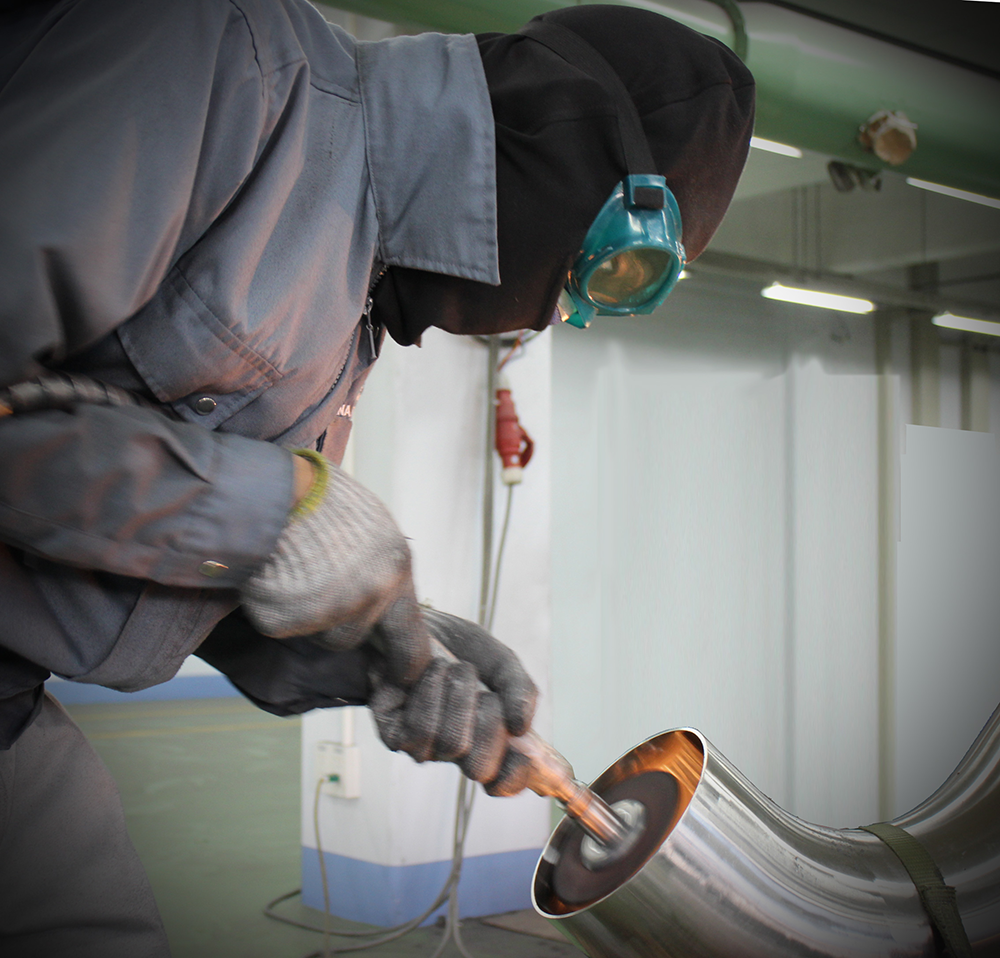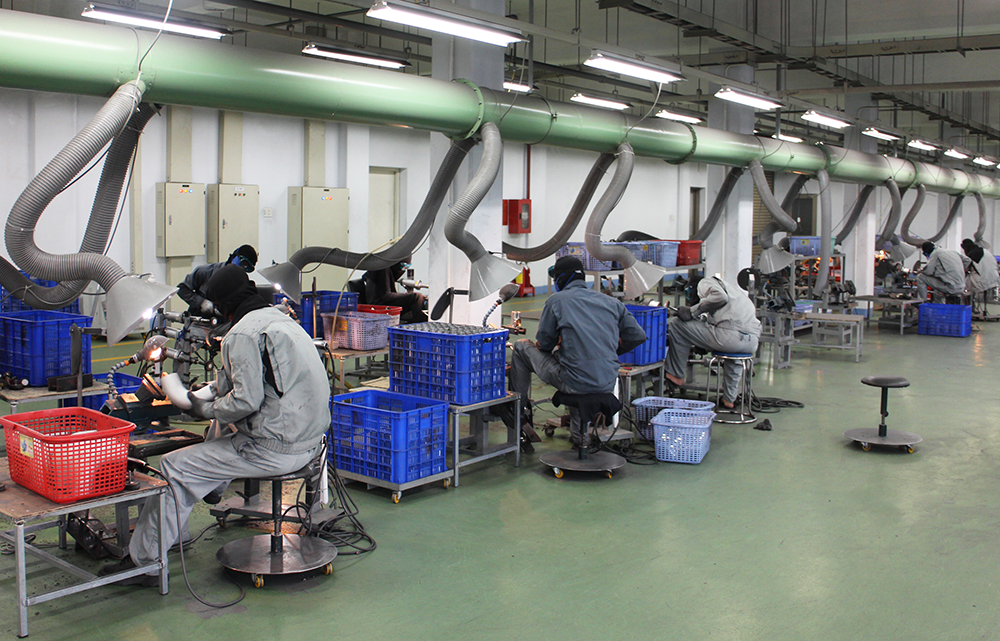 Polishing
Buff Polishing
From # 200, # 400, # 600, Mirror surface polishing, to HL polishing and other finish, we can polish products with a wide range of shapes.
No matter if it is just a small part or fitting or a big tank, we are committed to process every single product carefully.
We can process either small details or complicated shapes.
We have experience polishing various products including automobile parts, medical apparatus, beauty apparatus, plumbing for plants, EP (electropolish), groundwork abrasion, and other consumer products.
For pipes and steel plates, we have automatic polishing machines. Please contact us for inquiry of size and finish.
Vibratory Polishing
Used for polishing of mass-produced products. The cutting power is not like in buff polishing done by manual labor, but this method can remove unnecessary edges and can result in the uniform finish.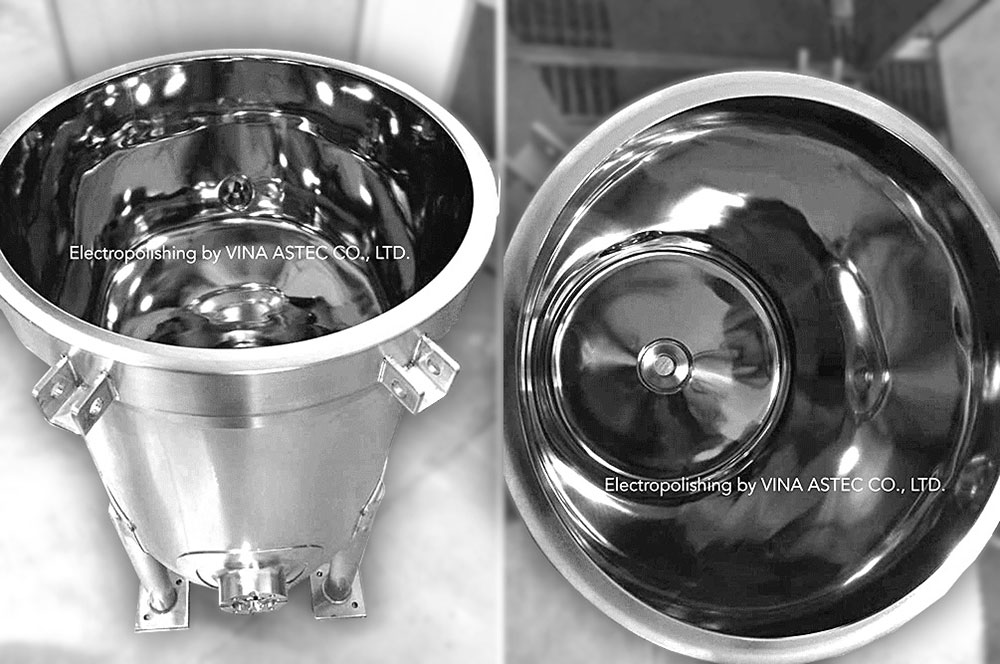 Electro Polishing
Not many factories in Vietnam can do stainless steel EP (electropolishing) from small objects to large tanks and we are proud to be one of the few.
※ As preparation of necessary tools is needed, a meeting in advance is required.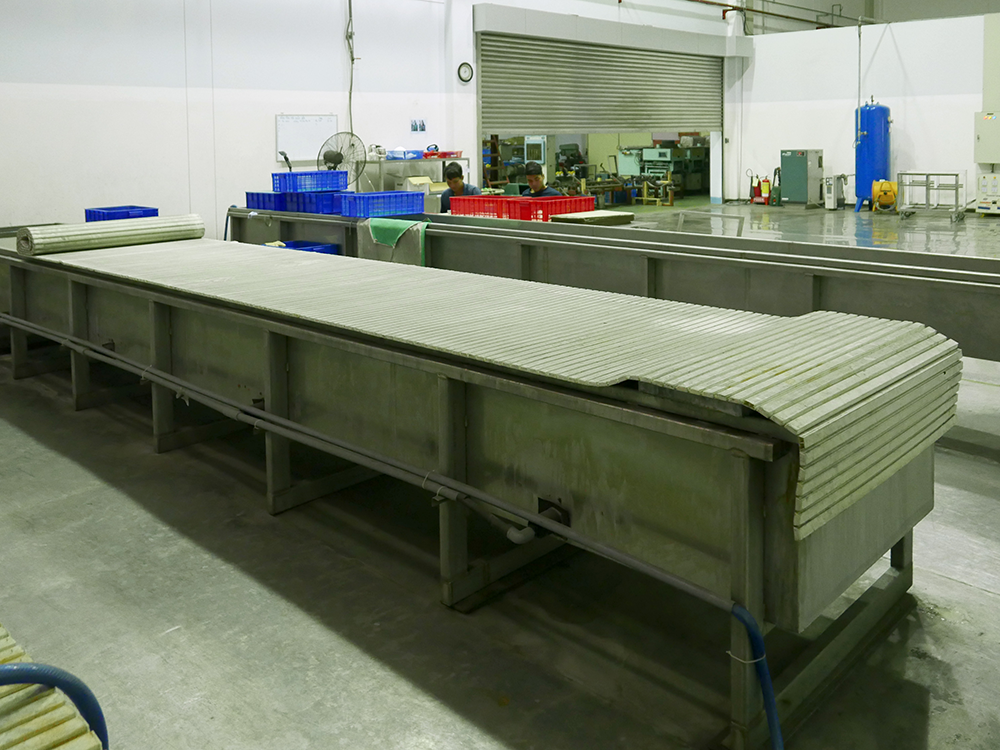 Cleaning
We have a large drainage treatment system, which make it possible for us to do degreasing cleaning, passivation treatment, and pickling.
We also respond to requests for materials only.
We deal with products from small size to large size like big tanks, and from single product order to mass production.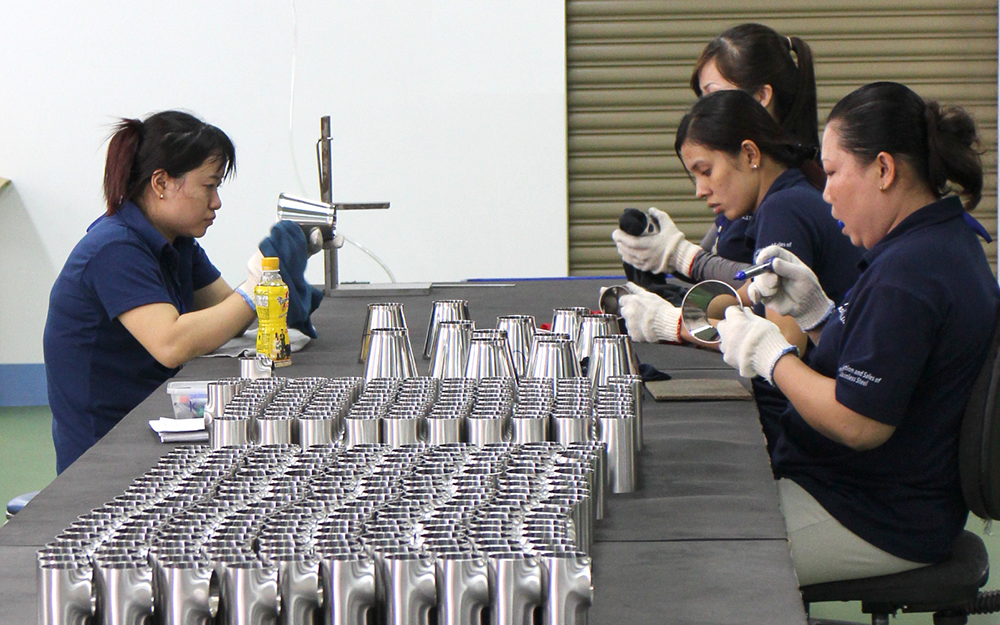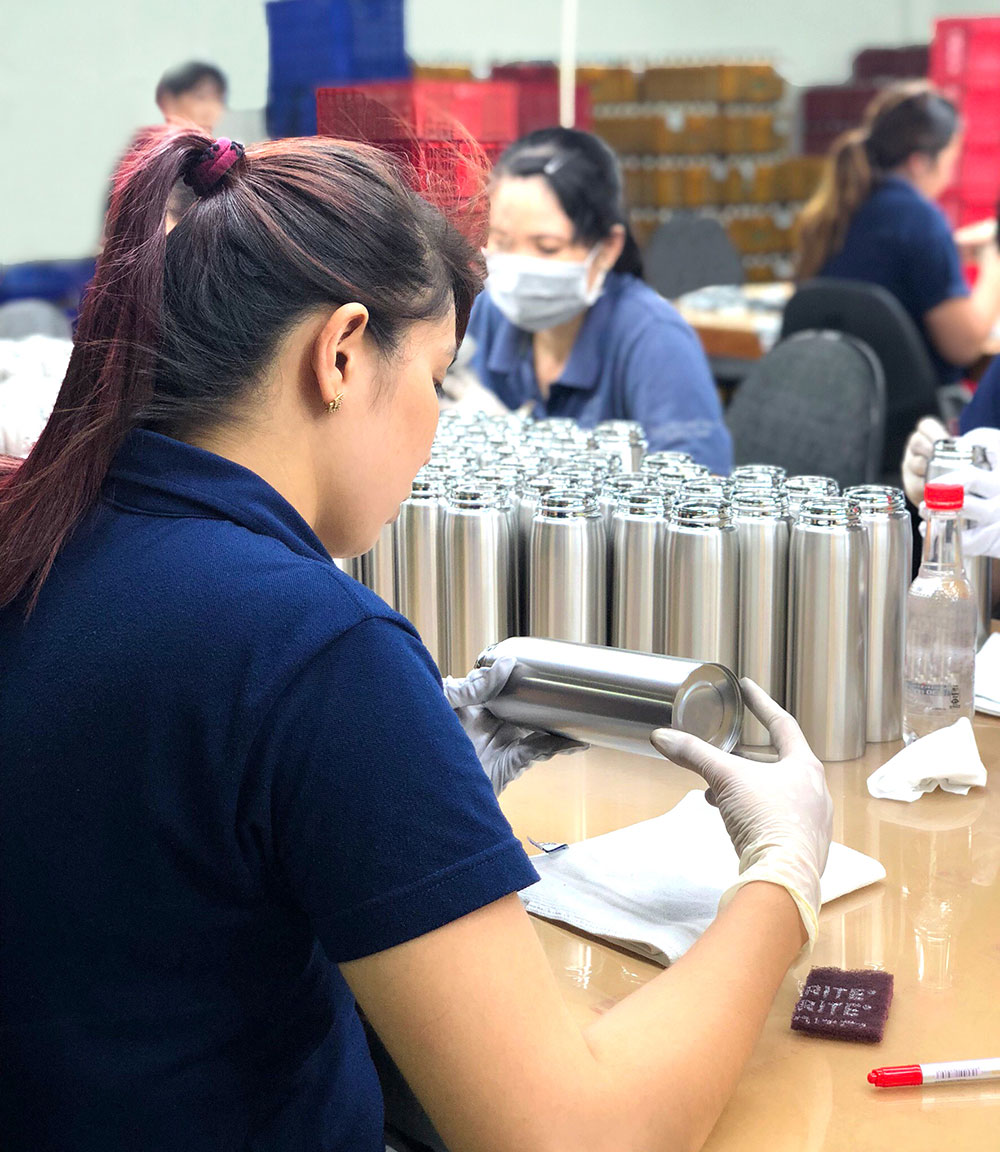 Inspection
At Vina Astec, we focus on domestic orders of prefabricated piping processing and construction, as well as mass-production of sanitary fittings for Nissho Astec.
We have a large, highly qualified group of inspection staff who perform the essential checks on product quality, such as product dimensions and appearance, molybdenum check, etc.
Mass production of major stainless steel parts used for consumer products also expanded rapidly. We are proud that our products are not only used in manufacturing plants for food and beverage or pharmaceutical products but also in automobile industry or customer products that are can reach customers in a more direct way.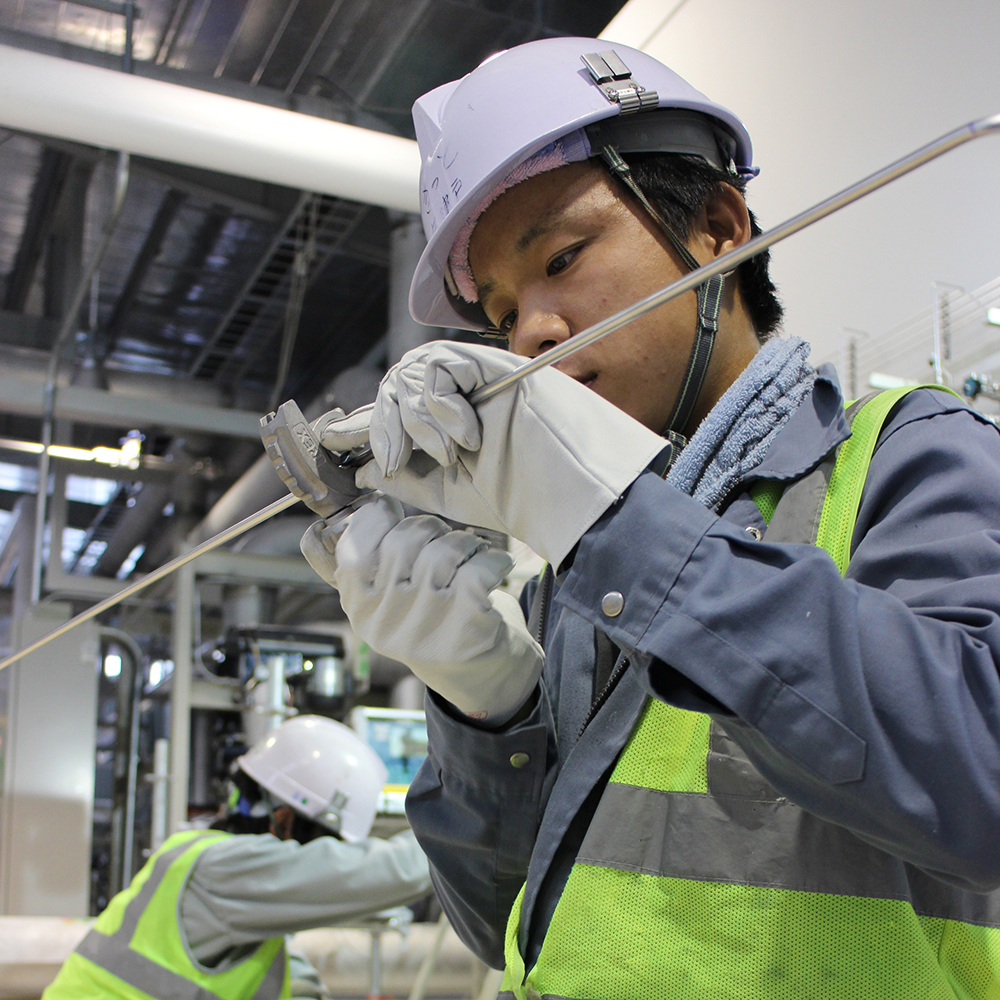 On-site construction · Plumbing work · Field service
We do the following works in various plants such as food, pharmaceutical, gas, semiconductor manufacturing plants.
Piping work: general pipe, BA pipe, EP pipe and utility piping
Field service: buff polishing, EP repair, etc…
Others: conduct on-the-spot inspection to do hydrostatic test or filling water test for assembled units and tanks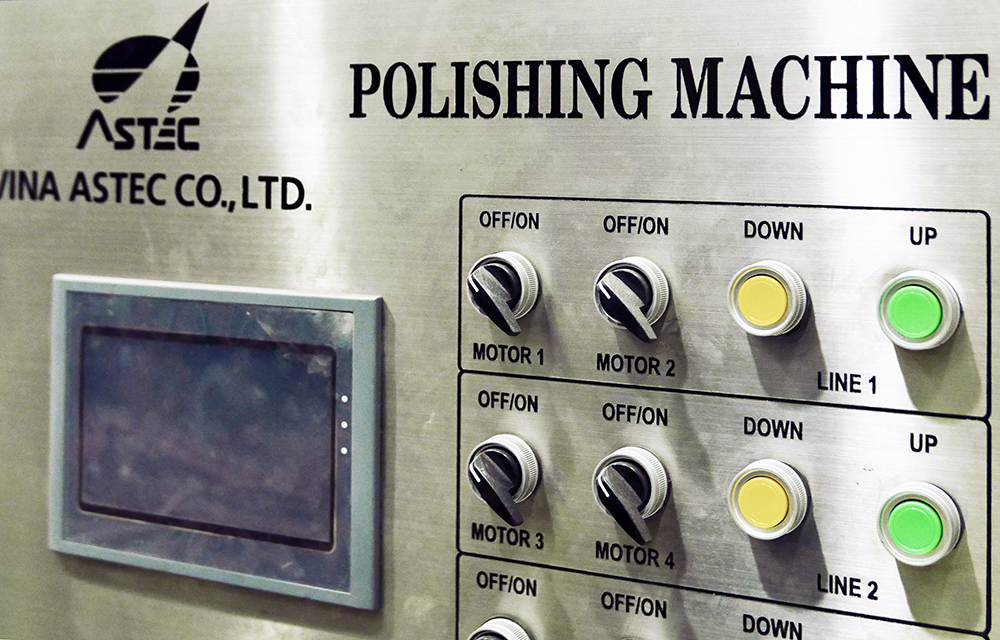 Mechanical
In order to increase productivity and quality, we also make in-house processing machinery if necessary.
Along the way, we have successfully designed and manufactured pipe automatic polishing machine, steel plate automatic polishing machine, press die, wastewater treatment equipment, continuous-sheet cutting machine, EP equipment for mass production, EP equipment for tank, automatic cleaning equipment, flexible polishing machine etc. All these facilities are being used constantly at full capacity.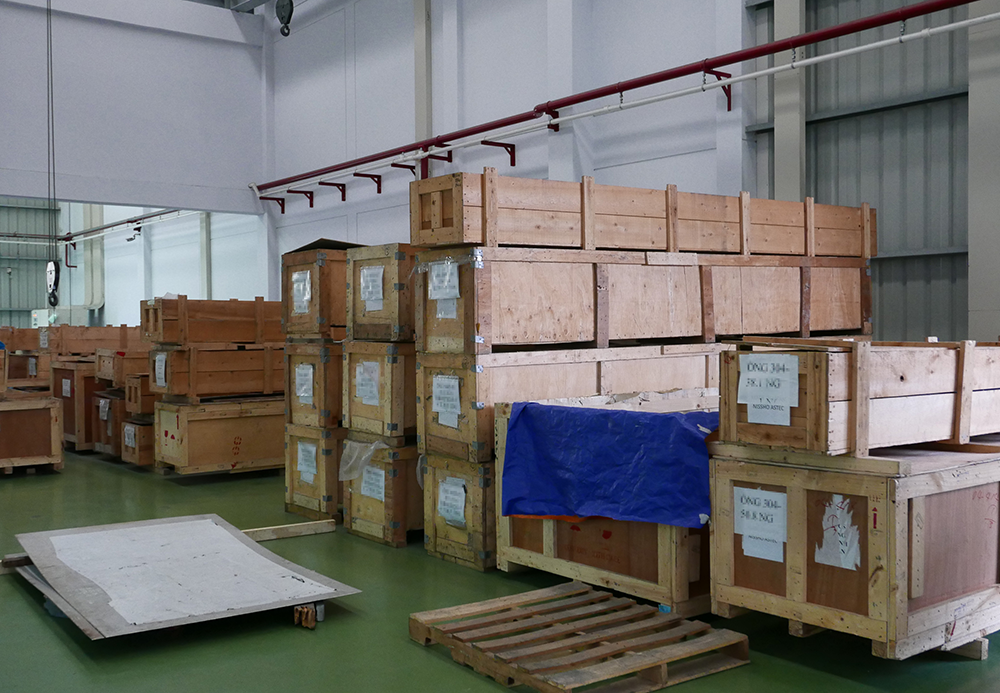 Warehouse
By cooperating with Nissho Astec in terms of material procurement, we can also supply high-grade stainless steel materials and related components. We conduct complete inspection of our input material as well.
We manage our inventory by categorizing products by millsheet.
Quality Control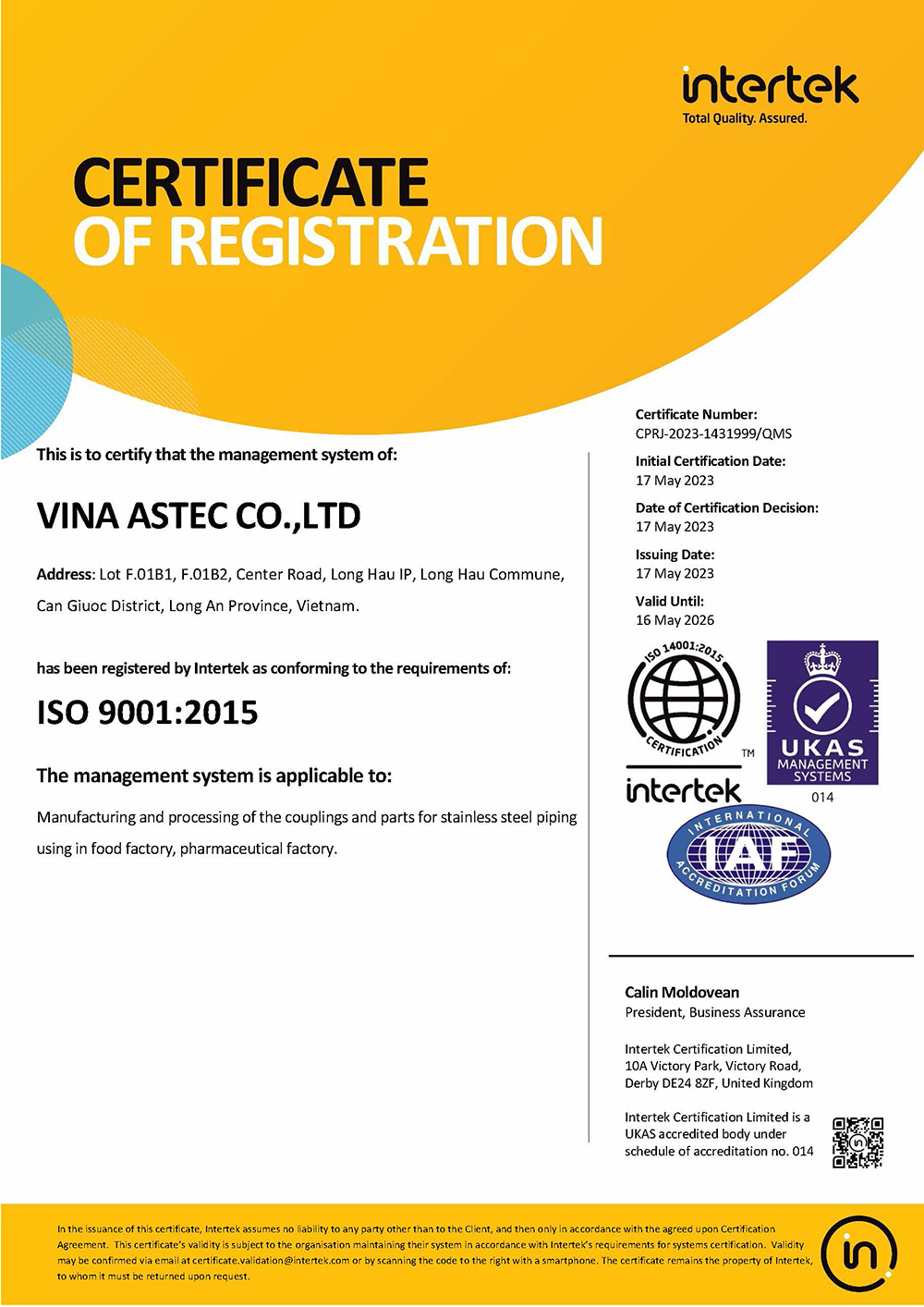 ISO9001 Quality Management System
Vina Astec has obtained ISO9001 certification, the International Organization for Standardization for quality management systems to establish quality control system provided by ISO all across its plants.
Acesss
From Tan Son Nhat Airport, it takes about 50 minutes by taxi.
---
Map of the neighboring area