Fiber Laser Welding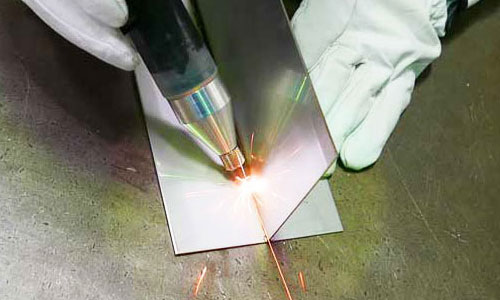 Fiber lasers weld at high speed with an extremely thin high power beam. It is a highly accurate, beautiful, and highly effective process that minimizes distortion caused by welding heat to a low level, and is highly effective against weld corrosion.
Electrolytic Polishing/GEP/GEPW
*
We possess surface treatment technologies that have been developed in manufacturing equipment with high requirements, such as pharmaceutical and semiconductor manufacturing. GEP/GEPW* is a technology that significantly reduces the elution of metal ions by further strengthening and homogenizing the immobile film after electropolishing.
Fiber laser welding of thin stainless steel sheets for high-precision processing
High quality and high precision laser welding realized by excellent beam quality that can concentrate high temperature locally.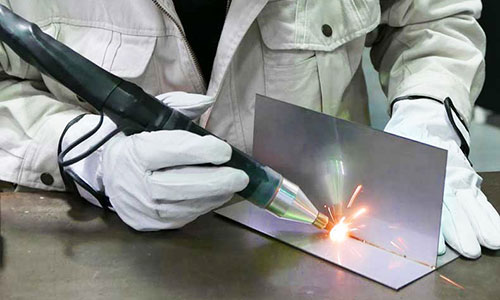 Fiber laser beams are of high quality and can concentrate light heat locally. It also absorbs light at a high rate and can be welded at high speed. This minimizes the extent of thermal degeneration and beading that can affect the aging of the product.
Less likely to be deflected or distorted by heat

The heat influence range is narrow, so the material is not affected by extensive processing heat.

Fine finish – minimal beading, beautiful deep blending
Laser welding of flat thin plates
Fiber laser welding emits a laser, as in YAG welding. The laser is generated in the oscillating fiber and emitted from the torch through the output fiber, hence the name. Nissho Astec will introduce this system in 2019. We are working on diversification of processed products, improvement of welding accuracy, and reduction of welding time, mainly for stainless steel sheets.
---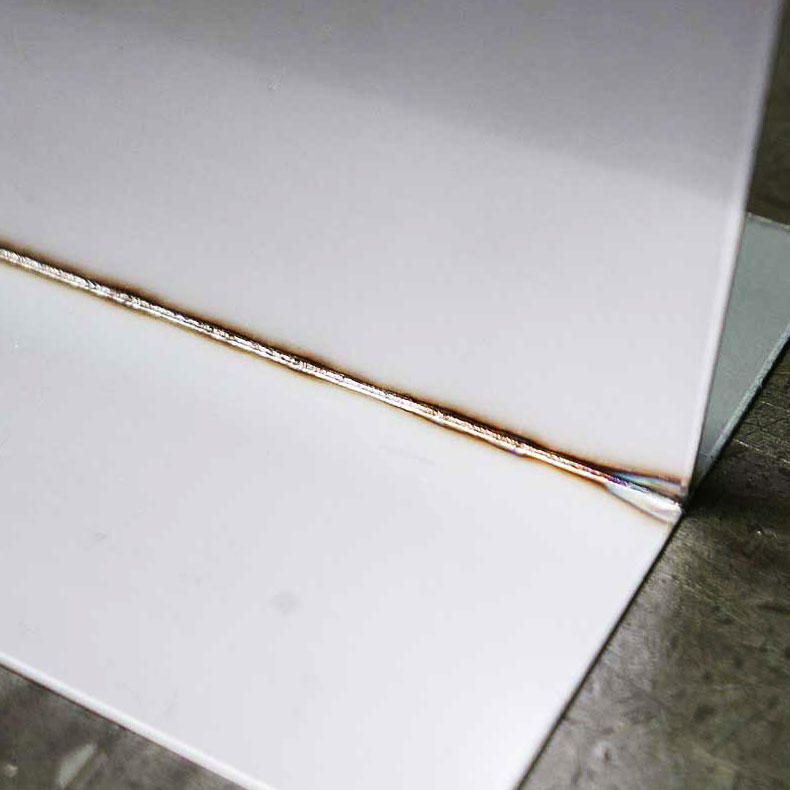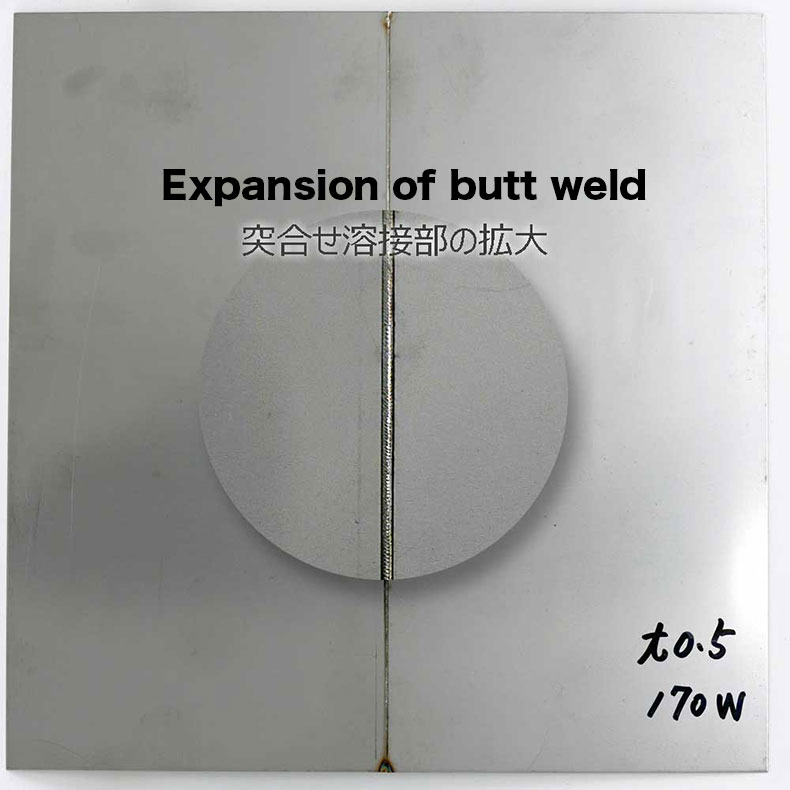 Features of Fiber Lasers
Fiber lasers have a much higher concentration of laser energy than general TIG welding and other methods. For this reason, it has the following technical characteristics
The welding heat is not spread over a wide area but is emitted narrowly and deeply.
Excellent beam quality in CW (continuous speed) oscillation.
As a result, the welding heat has less effect on the material, resulting in a beautiful finish. In particular, CW seam welding provides a more beautiful finish than YAG welding.
---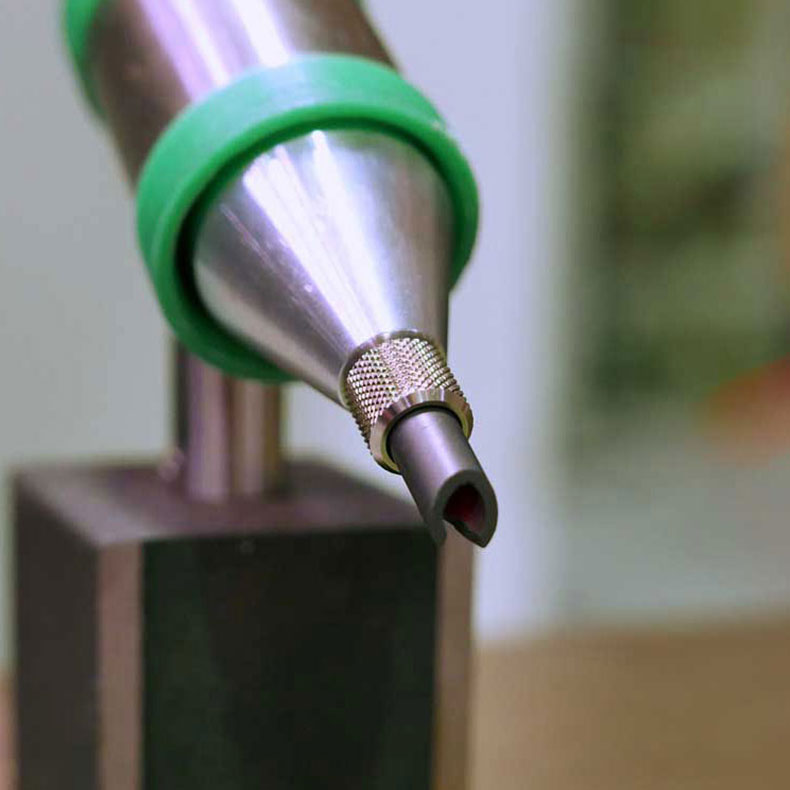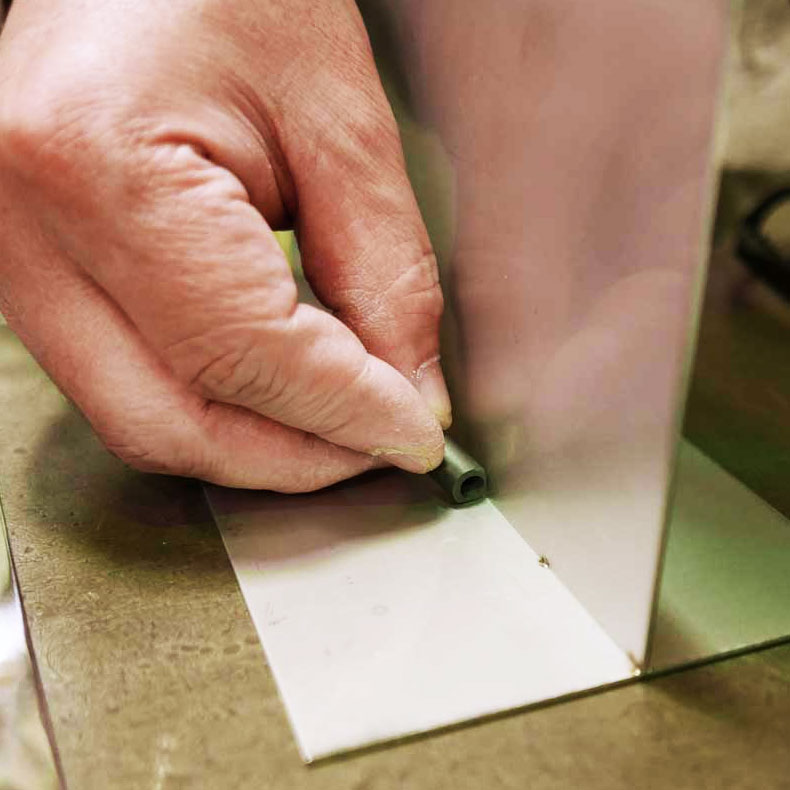 Application to multiple products
By changing or modifying the carbon tip at the end of the torch, you can smoothly and accurately weld T-shaped and narrow areas such as box-shaped objects.
---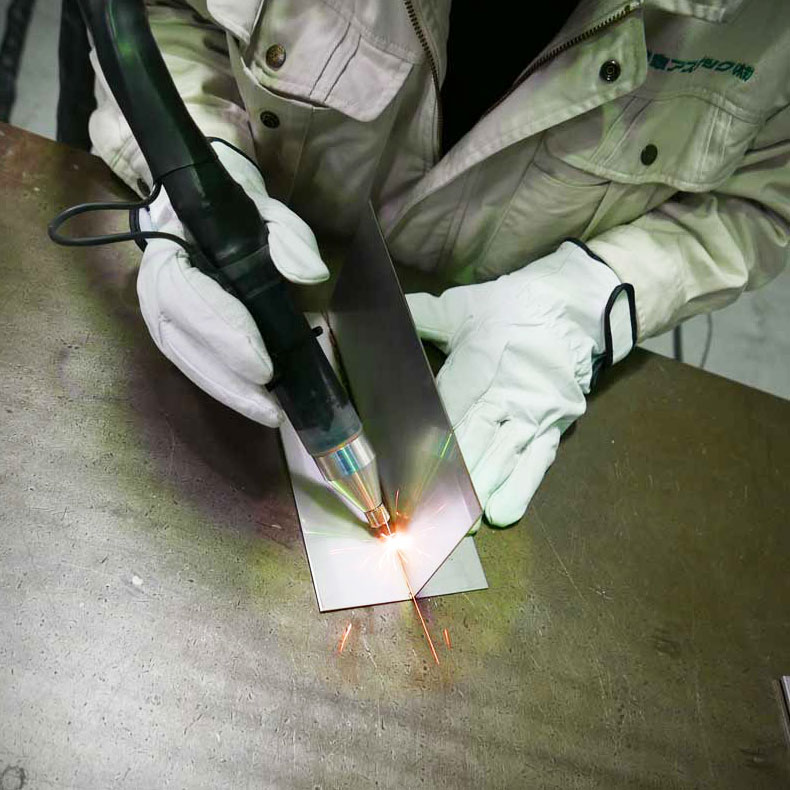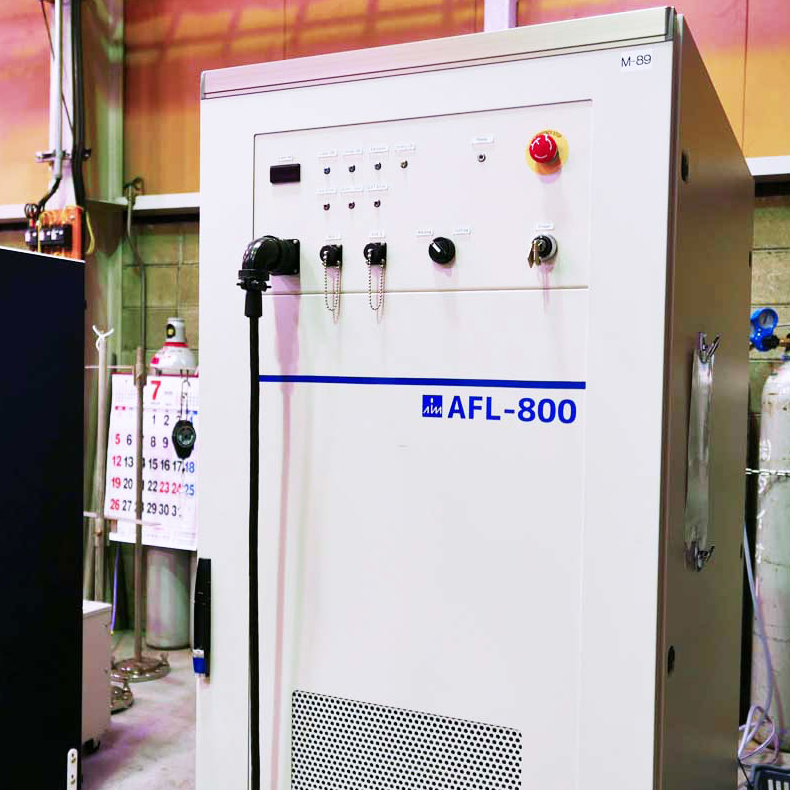 Synergistic effect with surface treatment
Process piping processing is Nissho Astec's forte, and we are expanding into processing of thin sheet metal products for industrial use (boxes, containers, tanks, pans, tubular products, etc.) in the future.
Also, since the effect on the metal is suppressed, the corrosion resistance of electropolishing and GOLD EP treatment can be maximized. Please use "fiber laser + surface treatment" for thin sheet processed products for process lines where high cleanliness and metal ion elution are not desired.
---
Benefits to customers
The following benefits can be obtained for users of processed products.
1. Minimized thermal distortion
→High precision of thin plates that are prone to distortion
  
2. Less weld burn (narrow area)
→Improved efficiency of post-processing and quality of surface treatment
  
3. Faster welding speed
→Shorter delivery time
Laser welding of cylindrical thin plates
Benefits for Processors
The following is a summary of the benefits of fiber laser welding for the fabricator
  1. High-precision welding with less heat distortion
  2. Fine and stable spot welding is possible.
  3. Seam welding and cutting can be done in a short time.
  
This is much more attractive than conventional welding.
One of the operators said, "The fiber laser feels like it takes half the time to finish a conventional weld.
---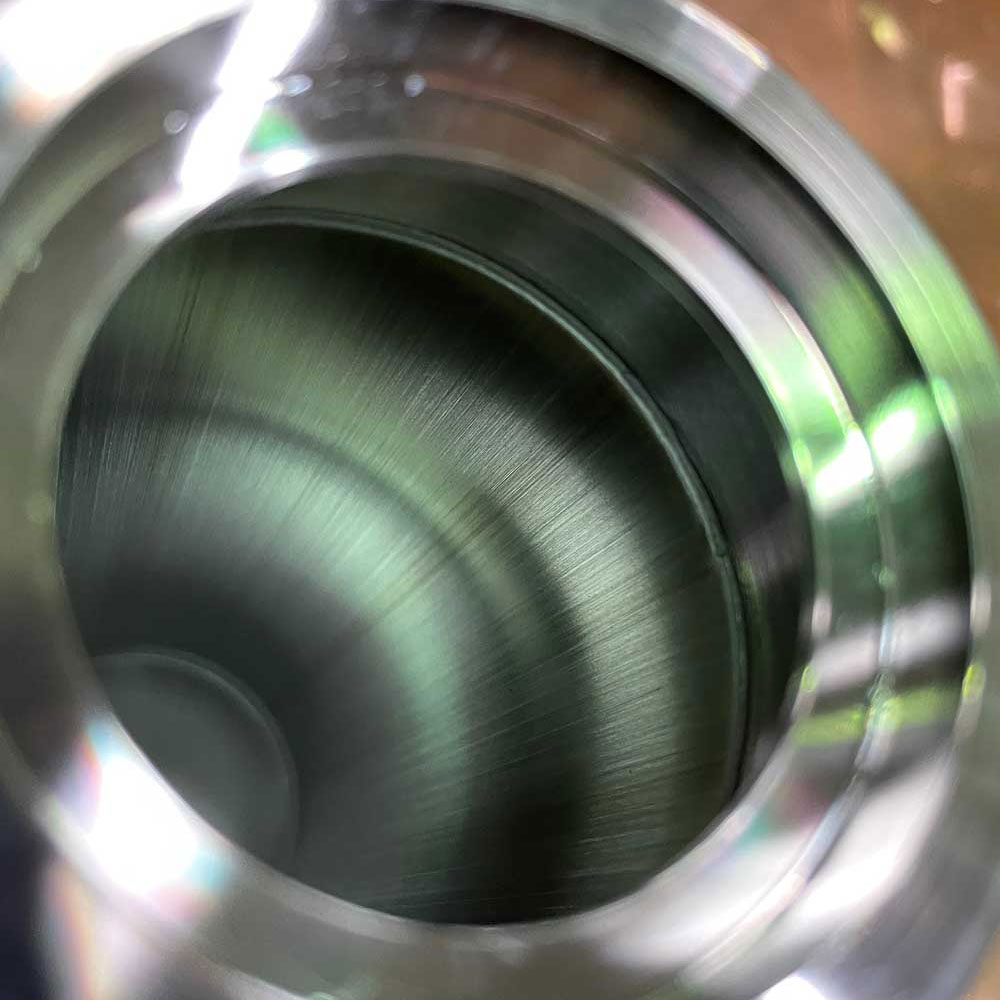 Inside of butt weld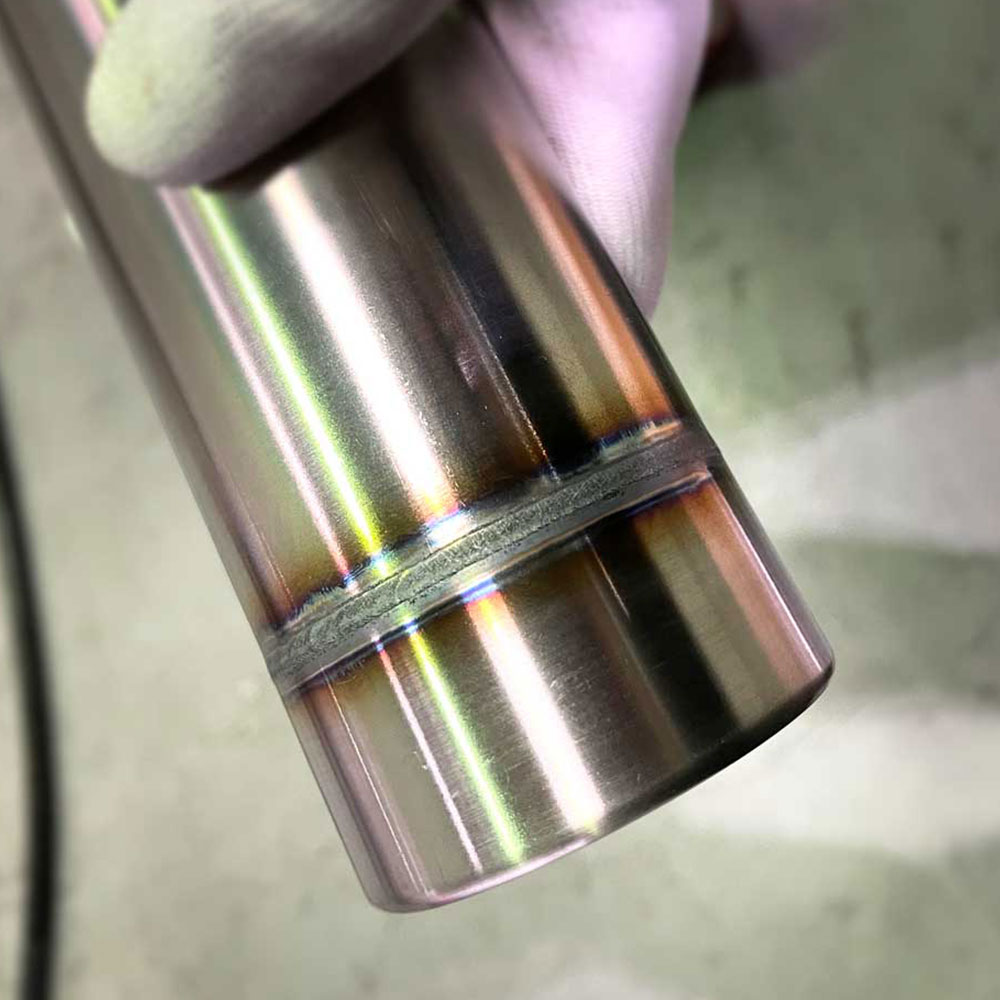 Outside of butt weld
To reduce distortion and improve accuracy
As the wall thickness of the material becomes thinner, it is easy for unnecessary welding heat to spread and cause distortion in normal welding, which can make it difficult to achieve design accuracy. However, with fiber laser welding, the range of welding heat is limited due to the high quality of the beam. Welding with less distortion is possible.
---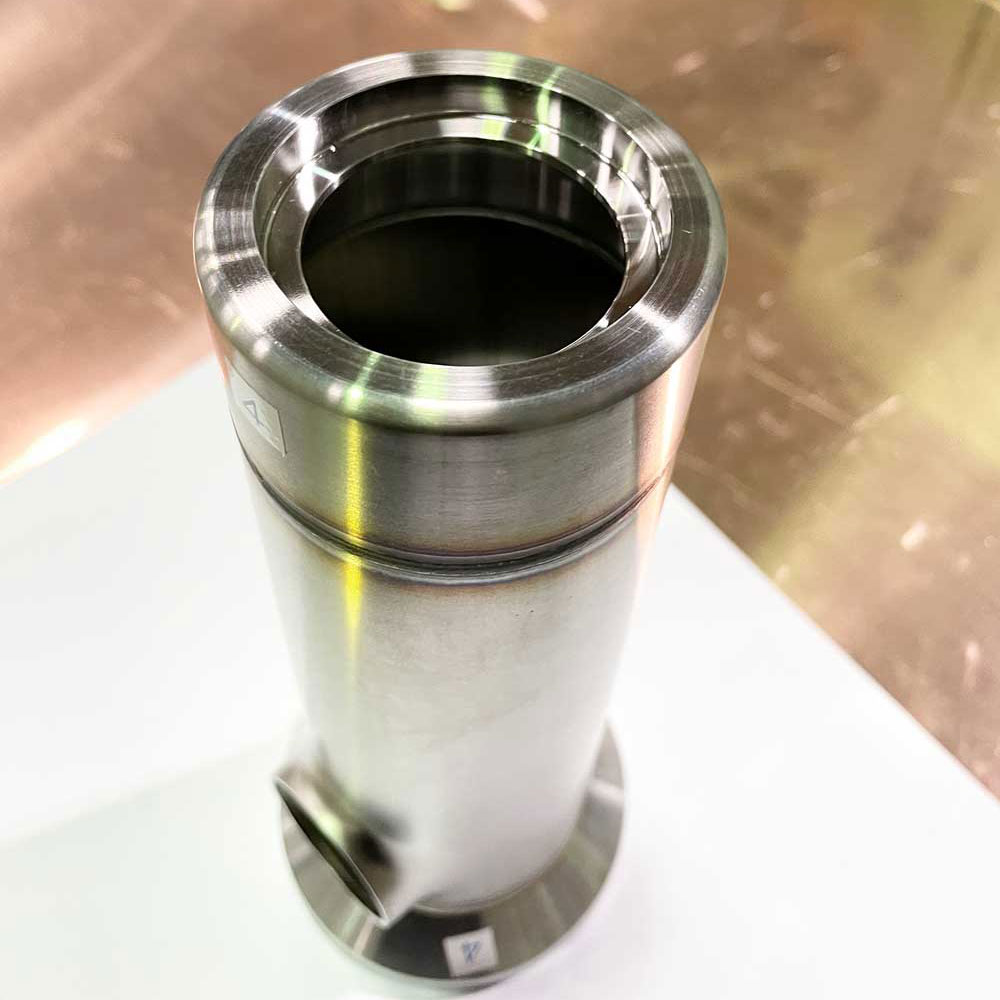 Product with laser welding on the cylindrical part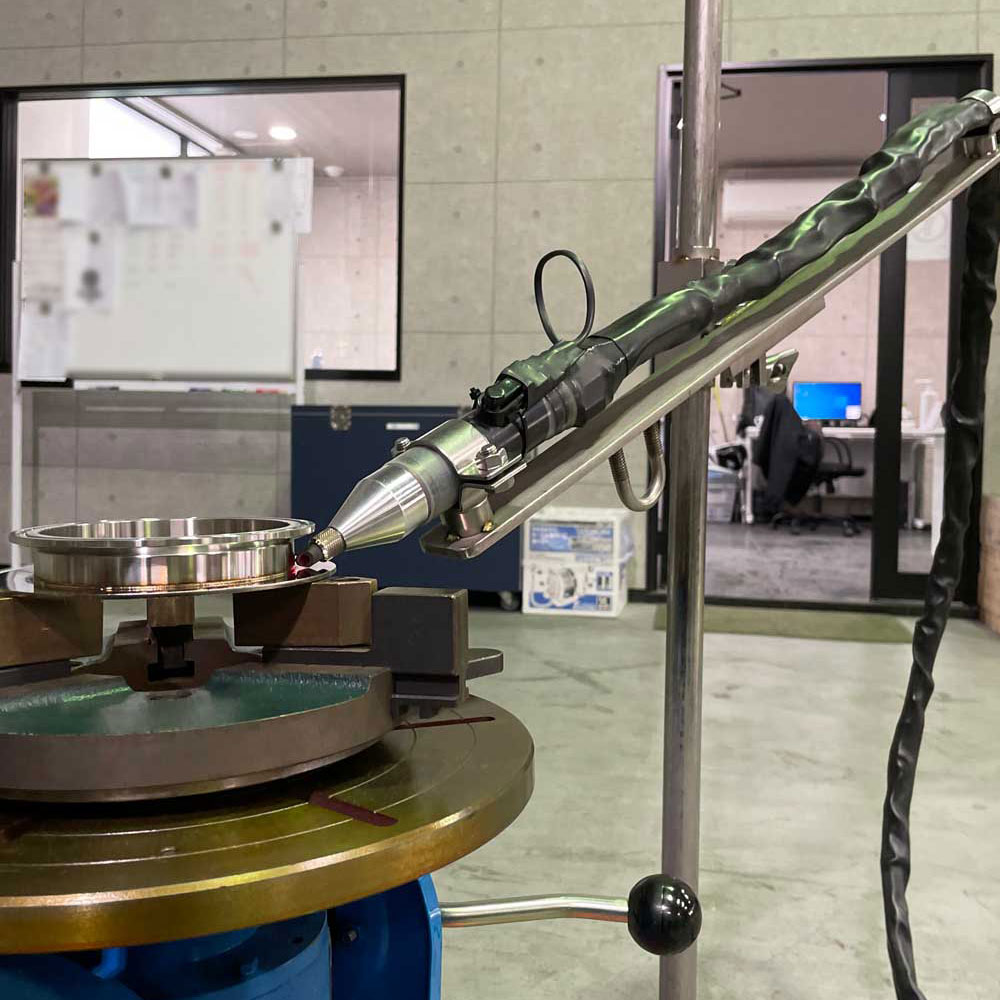 Jig with turntable and fixed arm for welding head
Application to curved materials
Fiber laser welding is easy to weld flat plates, but we are now expanding its application to welding of circular curved parts such as thin-walled plate tanks and pipes by further utilizing its features. Fiber laser welding of such cylindrical shapes is performed using a special jig.
---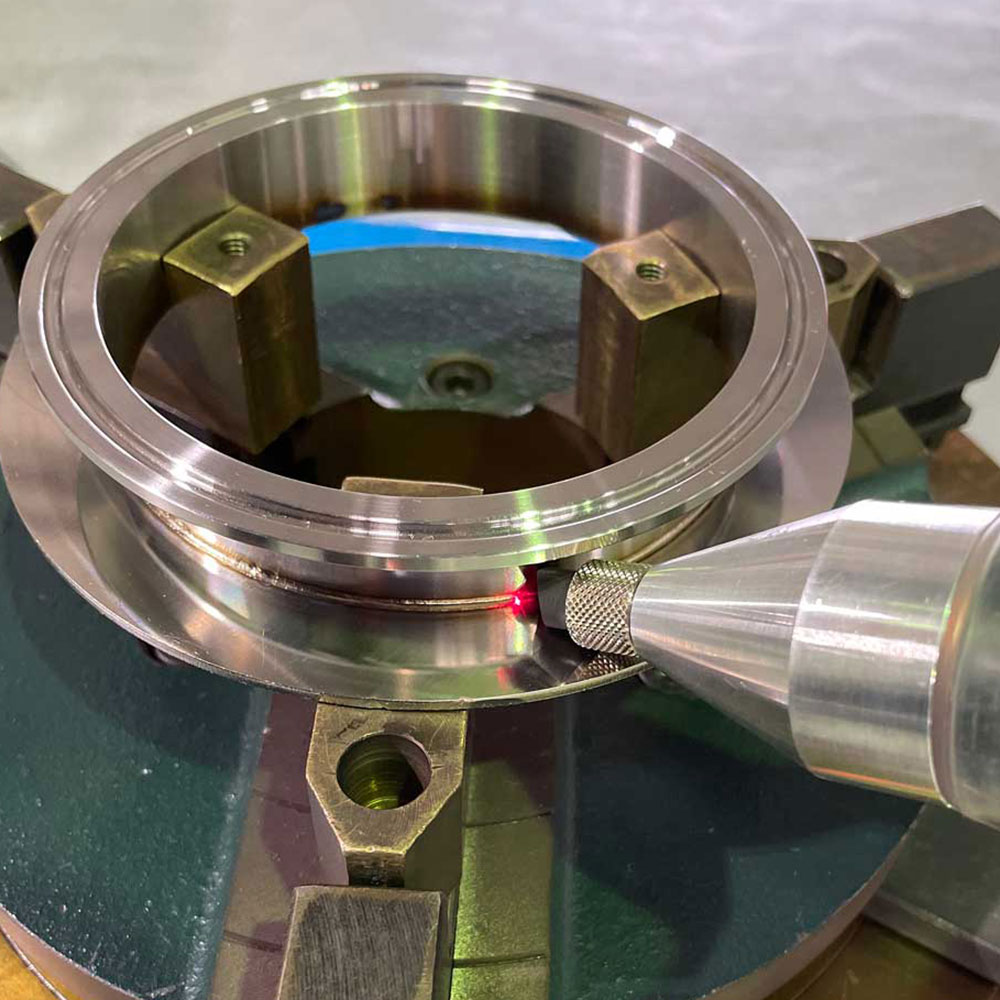 Laser welding to the cylindrical part using a special jig
Reduce distortion and improve accuracy
As the wall thickness of the material becomes thinner, it is easy for unnecessary welding heat to spread and cause distortion in normal welding, which can make it difficult to achieve design accuracy. However, with fiber laser welding, the range of welding heat is limited due to the high quality of the beam. Welding with less distortion is possible.
Fiber laser welding sample [Comparison with TIG welding]
Butt-welding samples of stainless steel sheet and stainless steel pipe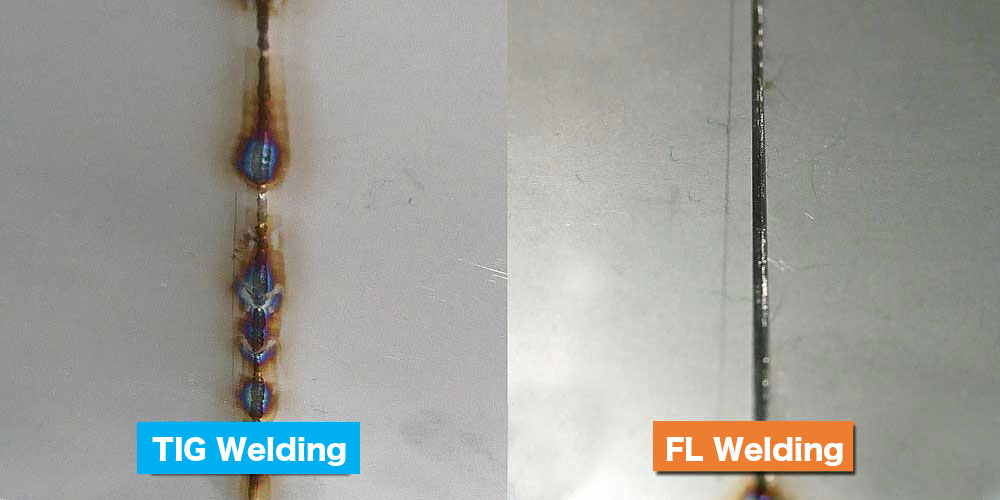 The extent of the burn marks differs greatly, making a difference in the finishing process after welding.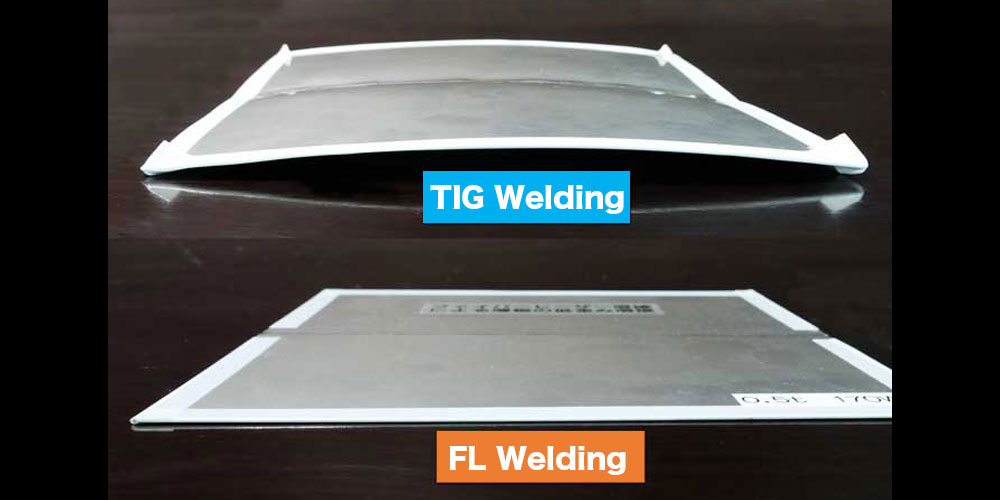 Differences in tawing due to welding heat. Fiber laser welding has less curvature in the plate after welding.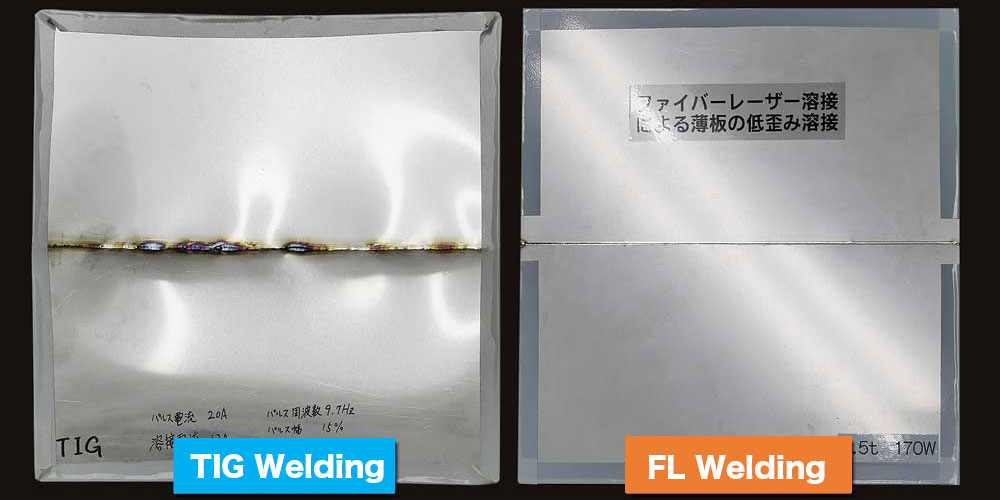 溶接熱によるタワミの違い。TIG溶接は不規則な波を生じている

Significantly strengthens passive film on stainless steel sheet Electropolishing / GOLD EP / GOLD EP WHITE

Electrolytic reaction flattens the metal surface and forms a chromium-rich passive film to improve corrosion resistance !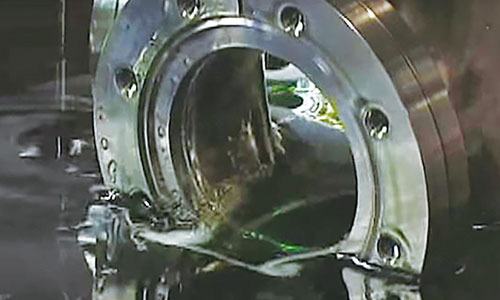 Electropolishing (EP) dissolves and removes foreign matter and altered metal surfaces caused by machining and other processes, and flattens the base metal. At the same time, a chromium oxide film is formed on the flat surface. This increases cleanliness and corrosion resistance, resulting in process piping and tanks with long life and easy maintenance.
*EP:Electro Polishing
Removes the altered layer and reduces the effect on corrosion resistance.

Dissolution by electrolysis increases the flatness of the material, making it difficult for dirt to adhere and improving washability.

Chromium-rich metal surface is formed and corrosion resistance is improved.
More robust electropolished products – About GOLD EP/GOLD EP WHITE
Thickens, flattens, and cleanly strengthens the passive film created by electropolishing. A strong metal surface with a stable composition greatly reduces metal ion elution.
1. Effective for metal ion elution and pollution control (TOC).
2. Forms a highly smooth metal surface that is resistant to particles.
3. High corrosion resistance by forming a thick passive film.
| Pre-Electro polishing | Electro polishing | GEP Processing | GEPW processing |
| --- | --- | --- | --- |
| The heterogeneous oxidation state and granular particles are easy to get rid of after the surface is affected. | Eliminate uniform oxidation state by Electropolishing. The surface becomes a flat and smooth metal surface. | Burn the object in an oxidizing atmosphere. The passivation layer of the chromium oxide film grows and increases in thickness. Furthermore, the passivation layer of the iron oxide film covers the upper layer. | Remove the iron oxide film from the surface with a chemical solution. The surface layer is a passive layer of a chromium oxide film that is three times as thick as a general EP.. |
| | | | |
| The surface of the metal is strongly affected by physical processing such as deterioration of the crystal structure and adhesion of dirt. | A chromium-enriched layer with excellent corrosion resistance is formed. Its thickness is about 1 to 3 nanometers. | This surface of metal suppresses the elution of metal ions in alcohol liquid or ozone water having a large amount of residual oxygen. | This surface of metal suppresses the elution of metal ions in ultrapure water or organic amine solution with strong corrosiveness. |
GOLD EP (GEP) is an electropolished (EP) product that is heat-treated to grow a chromium layer and form a thick iron oxide film on the surface layer, while GOLD EP WHITE (GEPW) is a chemical treatment of GEP to remove the iron oxide film and leave only the chromium oxide film.
EP/GOLD EP WHITE Surface treatment sample
An example of a stainless steel container coated with GOLD EP, which has a gold to copper luster due to the iron oxide film; GOLD EP WHITE (GEPW) has a grayish white luster.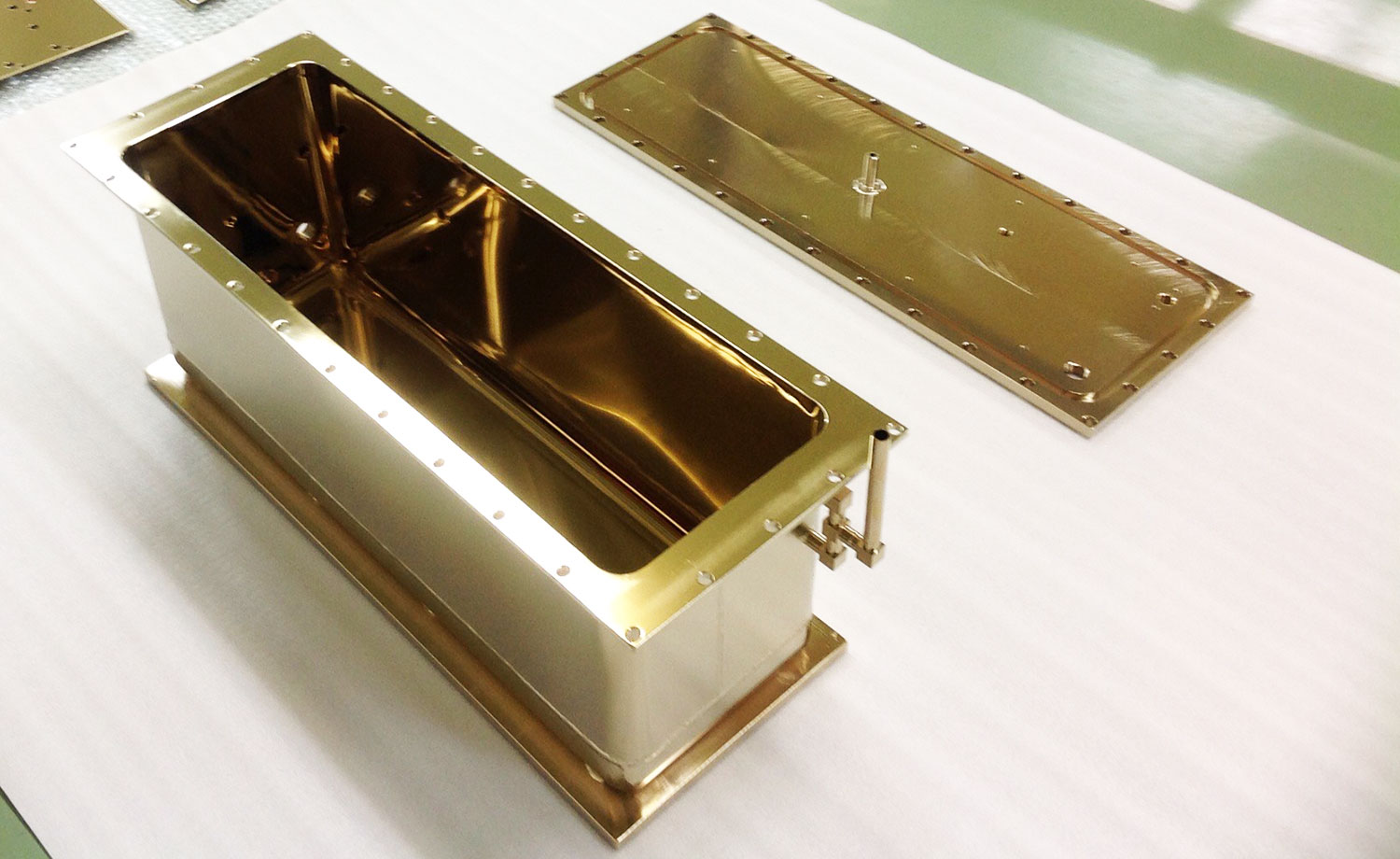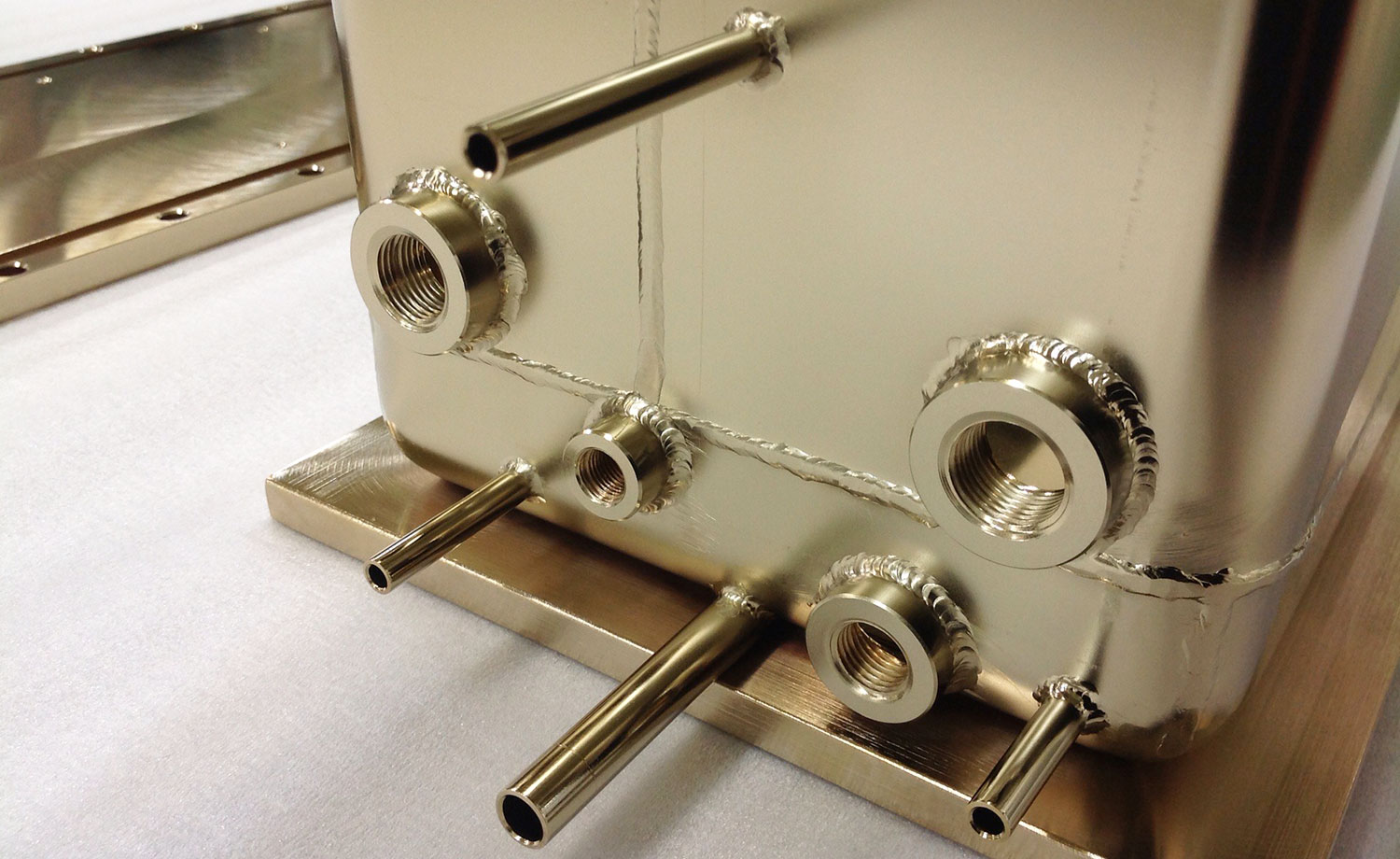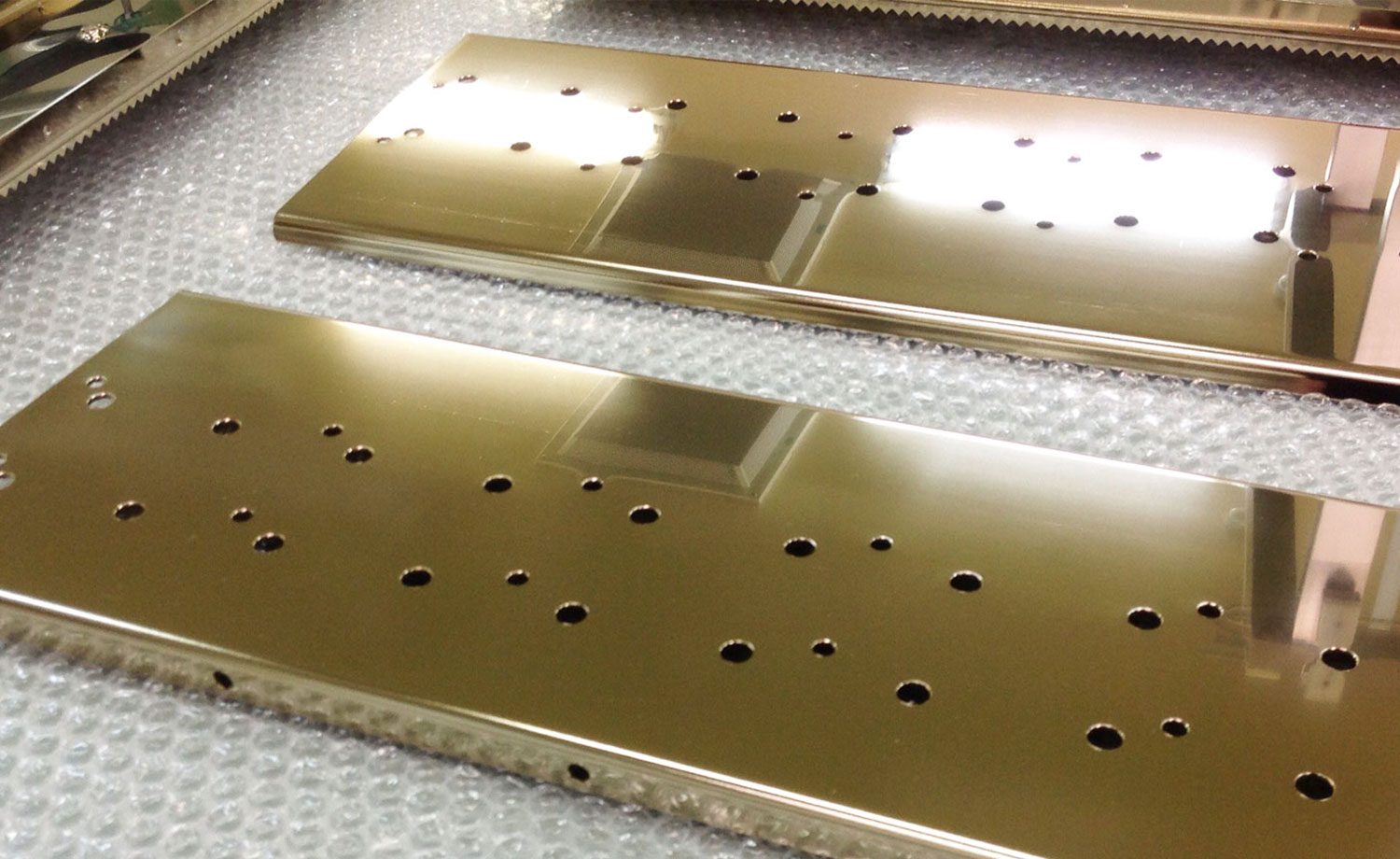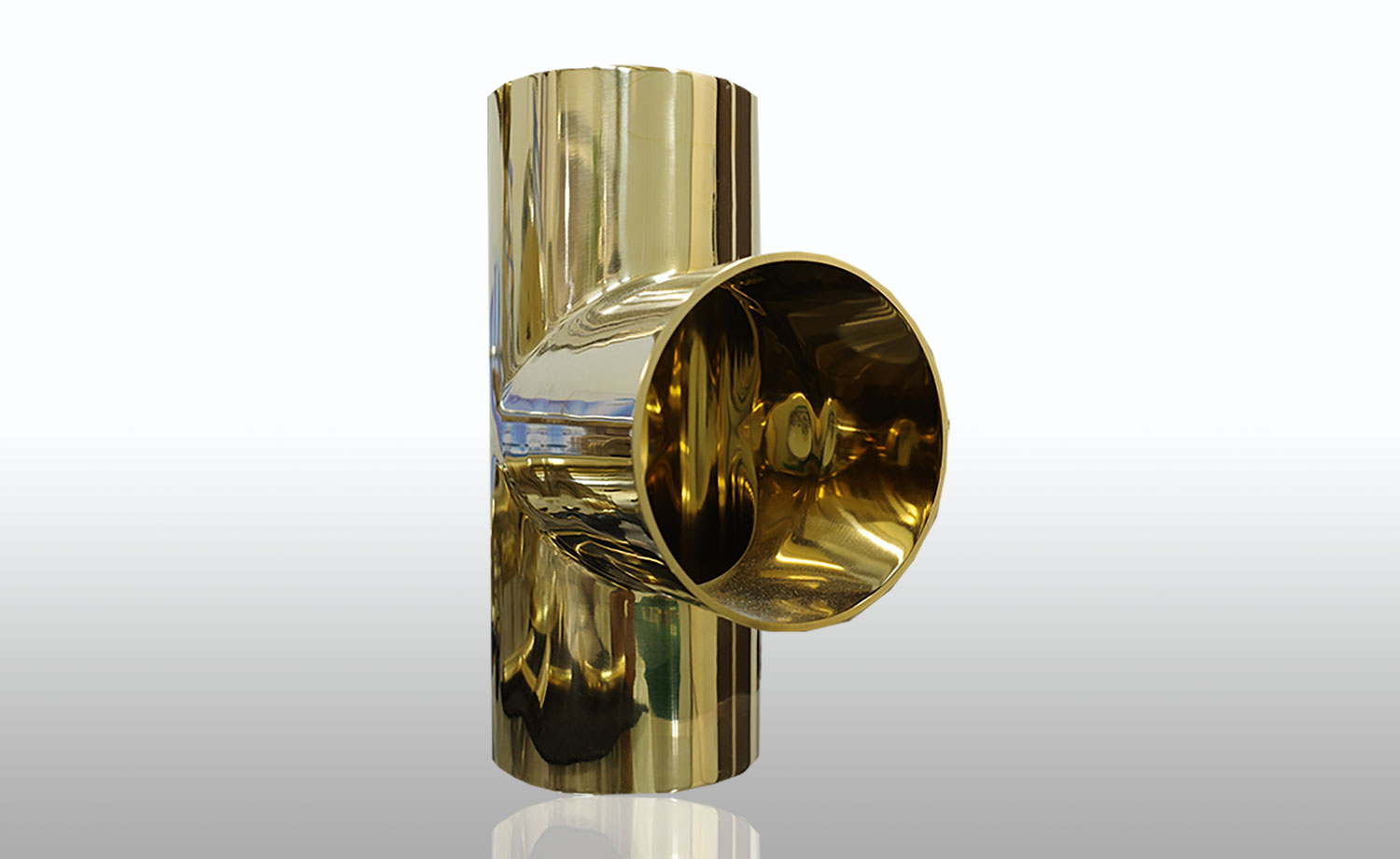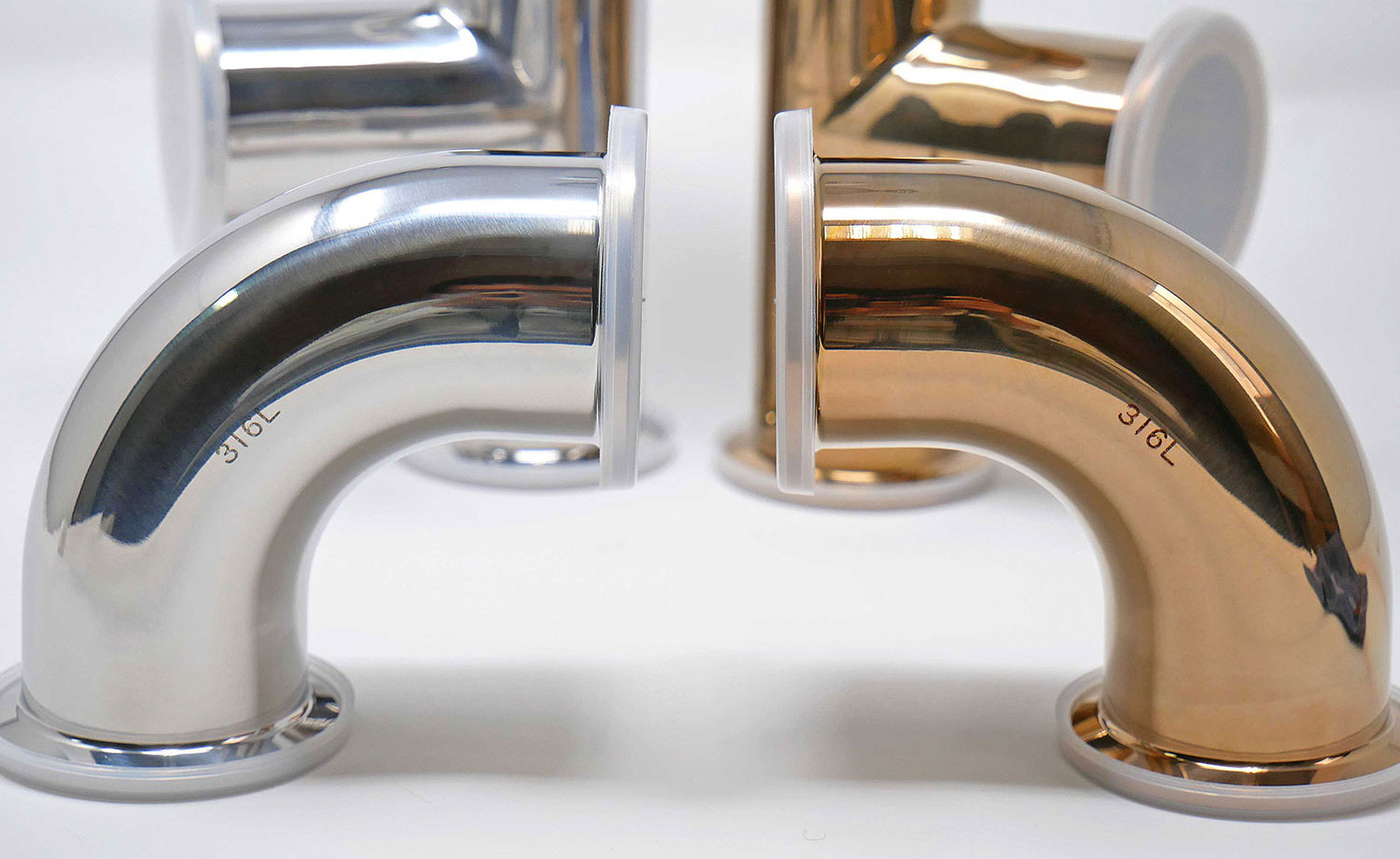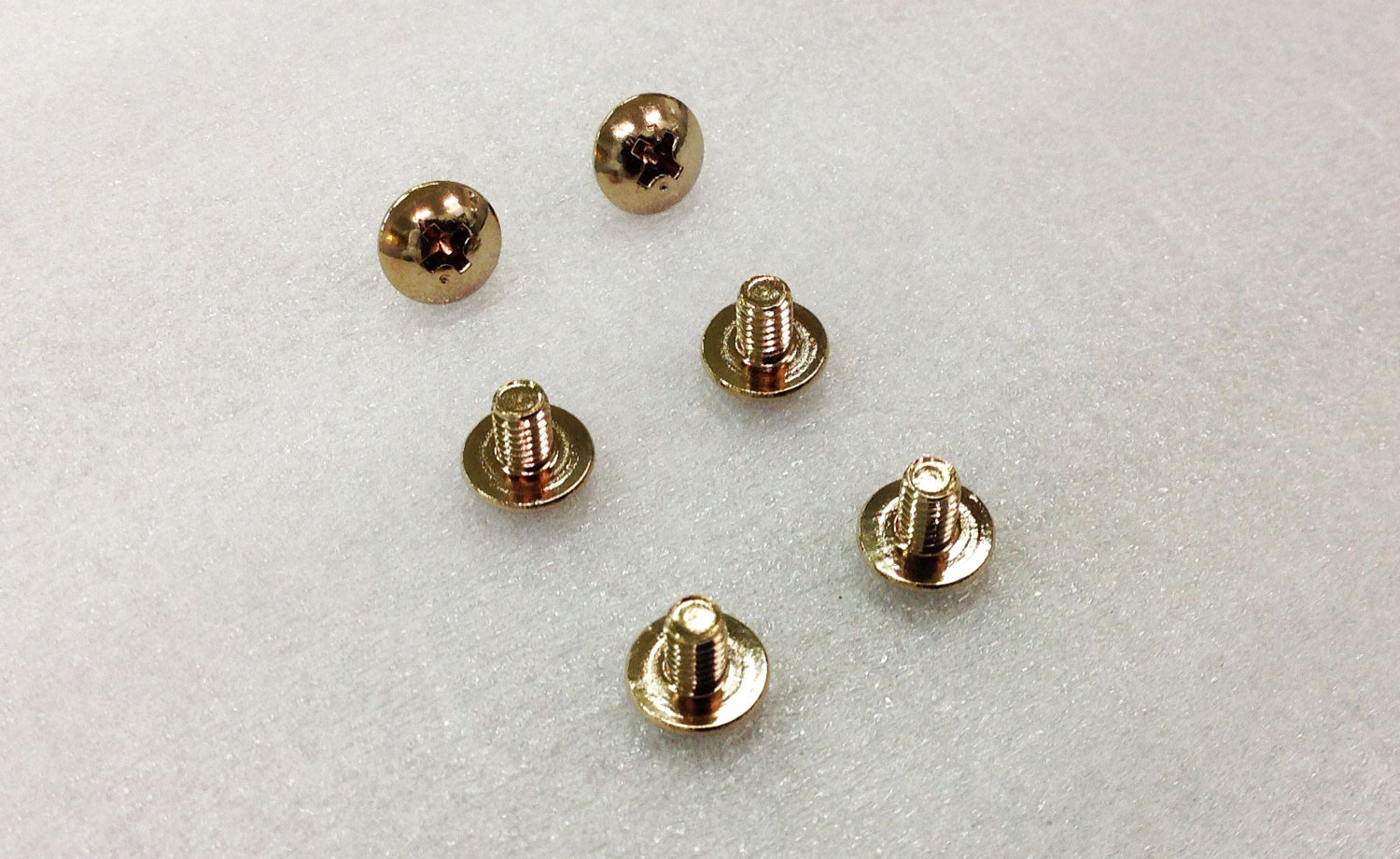 Conlusion
Customers rarely ask for a fiber laser for welding.
However, especially in the case of industrial products for high cleanliness applications, we can confidently recommend "fiber laser welding" and "Nissho surface treatment" to our customers.
What does it mean to choose stainless steel as a material? I think it is because it is a metal material that is resistant to corrosion, which is its greatest advantage.
If that is the case, please do not only rely on corrosion resistance as a material, but also value welding methods that are friendly to the metal composition of the surface layer, and surface treatments that forge the virtues of stainless steel more firmly.