Introduction of the rooftop garden at Minoh headquater
The oasis for our employees which is surrounded by plants and flowers with scenary of Meiji Forest Minoh National Park.

NISSHO ASTEC's head office (Minoh city, Osaka ) has our own "rooftop garden" which is surrounded by flowers and green all year round.It's suprising to see a garden on the roof of a company which deals with hard and cold steels, isn' it?At lunch time, with sunlight and colorful flowers and the fresh smell of green trees around, it is easy to refresh ourselves and feel relaxed for a while.The green garden is the best place to come up with creative ideas. If the weather is nice, it is also possible to conduct meetings and interviews here.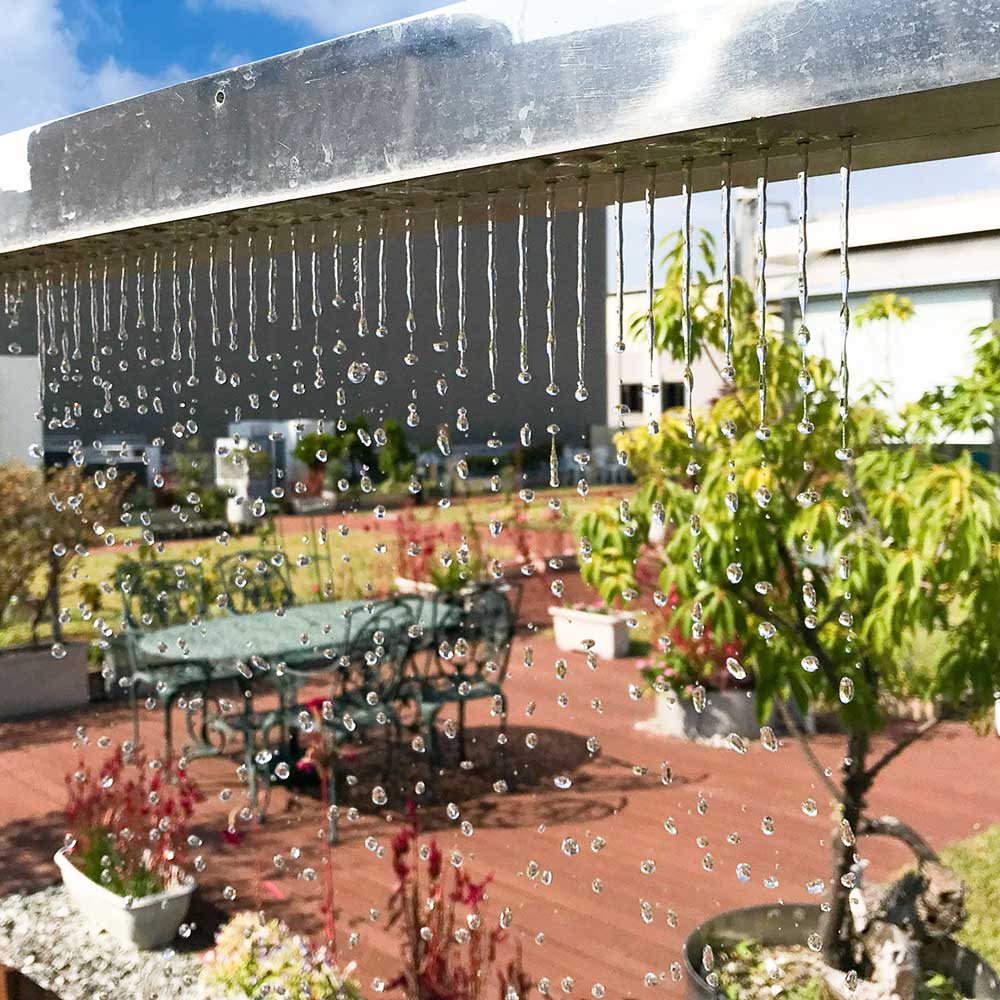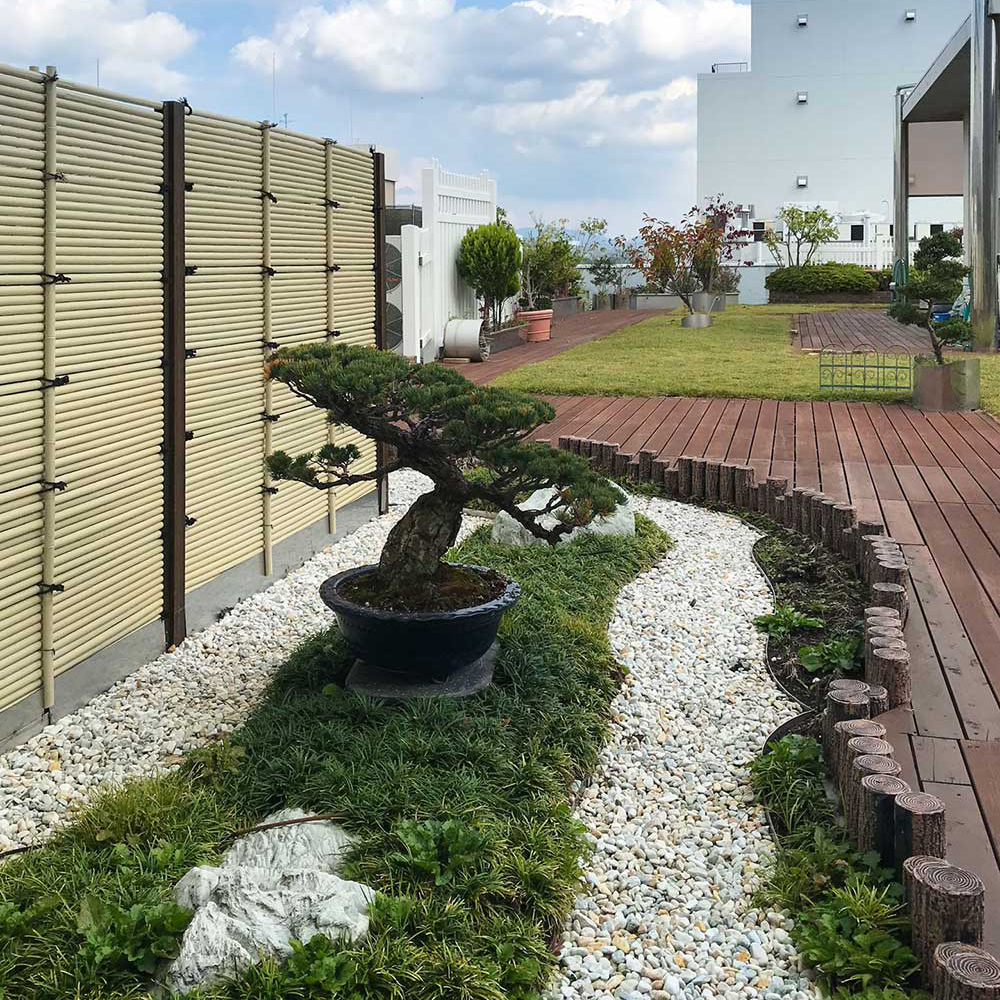 The photos posted on this page were taken in late October, which explains why there were just few flowers. Hoever even at that time, wall spring water still could entertain our eyes and ears.Please take a closer look, you can see stainless products in the wall spring, flower pots, containers, and even in a hat on the roof gardens. We can create such things for decoration, not just only pipes and fittings.This Japanese garden is also handmade. Can you guess whose work that bonsai is?It might be more difficult to bend the pine branche than to bend stainless steel pipes, might it not?

The Osaka Semba Textile Complex where our head office is located, is in the hilly area of North Osaka.Our building is surrounded by a lot of wholesales stores and distribution centers.
Surprisingly, the surrounding scenery is quite beautiful. When you look at the north side, the mountains of Meiji Forest Minoh National Park are spread like the picture below.The mountainous area of Minoh, which is one of the most spectacular spots of autumn leaves in Kansai area,
will be full of color soon, creating a wonderful landscape for our garden.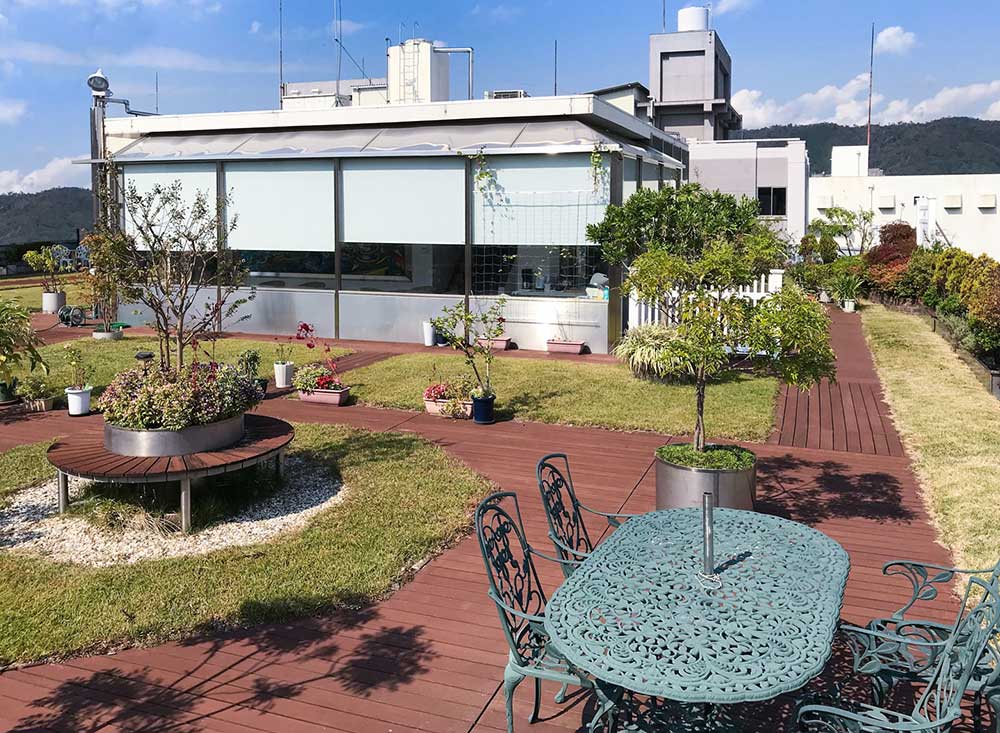 You will not be able to find another building with such a large-scale rooftop garden in the Osaka Semba Textile Complex.Our rooftop garden is visible on Google Map's aerial photo gallery. Please take a look there!
---
*About "Meiji Forest Minoh National Park"
A monumental park designated in Meiji era.The mountain area is 960 hectare.It is famous for autumn leaves and waterfalls and visited by 2 million people each year.